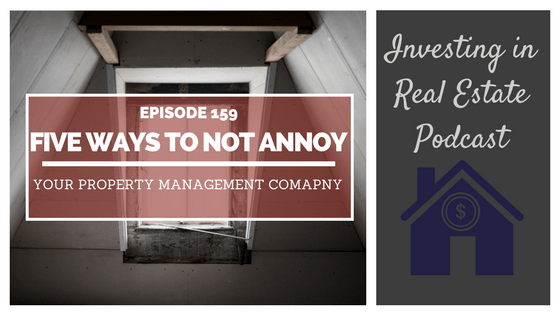 EP159: Five Ways to Not Annoy Your Property Management Company
Book a call with our team: https://go.oncehub.com/morrisinvest/?utm_source=MIblog&utm_medium=MIBlog&utm_campaign=MIblog&Source=MIblog
This episode of Investing in Real Estate is brought to you by Harry's. For $5 off any shave set, including the limited addition Father's Day set, visit harrys.com/realestate.
Working with an experienced, qualified property management team is paramount to a real estate investor's success. A property management company finds the right tenants, collects the rent, and does all the legwork so you don't have to! It's important to remember how valuable your property management team is, and to treat them with respect.
For today's episode, I asked my property management teams what investors can do to be helpful and easy to work with. I'm sharing the top five things you can do to not annoy your property management team. Don't miss this episode of Investing in Real Estate!
More About This Show
Occasionally, it seems that certain investors get a big head when it comes to dealing with property management. They fall prey to the mindset that they are in charge, and the team works for them. This is not good business practice, and it's certainly no way to treat people.
It's important to be kind, and remember that the property management team is comprised of human beings. We as landlords should treat our property management companies as team members. Without their hard work and dedication, we would not be able to do what we do. With the help of my property management teams, I've compiled a list of five things you can do to collaborate with your team and make their job as easy as possible:

Fix the things they ask you to fix. This one is really simple—when they contact you regarding a leaky faucet, rattling heat vent, or a broken toilet, give them the green light to fix those issues. It might seem like some of these complaints are small to you, but to your tenant, the little things compile. When you anger your tenants, you make your property management team's job harder.
Let them do their job. You hired this team because they're qualified to screen the tenants, and collect rent. Don't try to micromanage them. Don't come to them with a list of additional demands or tasks. They know what to do, and how to do it!
Don't be greedy with pricing. Your team is already established in the market, and they know what price is appropriate. Trust their judgment and experience.
Get your account numbers right, and don't change them last minute. Most property management companies will pay your rent via ACH. If you decide you need to change the account where your rent is deposited, give plenty of notice.
Take care of all paperwork. When you onboard with a property management company, they'll send you a packet of paperwork to complete. This stuff is important! It's how you receive your payments and important tax documents.

If you're ready to begin building a passive income through rental real estate, book a FREE call with our team today. We're ready to talk about your goals and want to help you learn more about earning legacy wealth for you and your family. 
On this episode you'll learn:
Should you compete with other investors on rent prices?
How much notice should you give before changing your account numbers?
What is the harm in trying to collect a higher monthly rent?
How can you get on the same page as your property management team?
And much more!
Episode Resources
Harry's
EP126: Are You a Hands-On or a Hands-Off Investor?
Subscribe to Investing in Real Estate on iTunes
Find Your Financial Freedom Number
Subscribe to the Morris Invest YouTube channel
Like Morris Invest on Facebook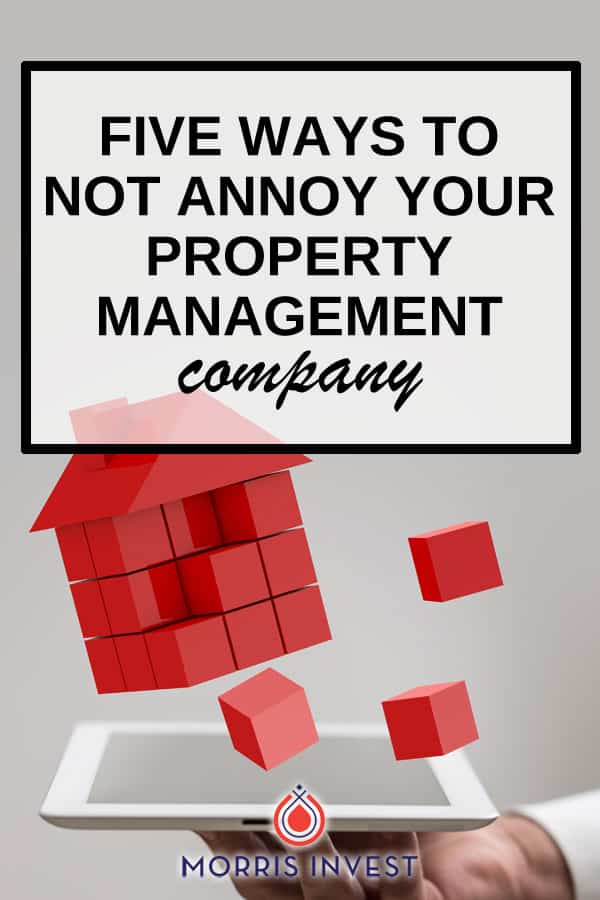 Ready To Build Passive Income Through Rental Real Estate?
Ready to talk about your goals? We're here to show you the tools and teach you the process to begin earning legacy wealth for you and your family.