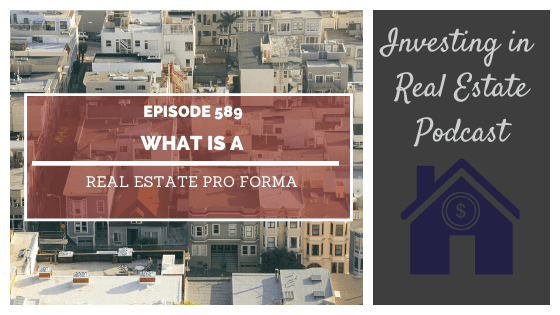 Book a call with our team: https://go.oncehub.com/morrisinvest
This episode is sponsored by LinkedIn! Hiring the right people is one of the best ways to help grow your business, but it shouldn't take time away from your other priorities.  With LinkedIn Jobs, it doesn't have to. Find the right person for your business TODAY with LinkedIn Jobs.  You can pay what you want and get the first $50 off. Just visit linkedin.com/investing.
This episode is also sponsored by Handy! Handy is the leading platform for connecting individuals looking for household services with top-quality, independent service professionals. From home cleaning to handyman services, Handy instantly matches thousands of customers every week with top-rated professionals. And for my listeners, Handy has a special limited time offer. Get your first 3-hour cleaning for ONLY $29 when you sign up for a cleaning plan. Go to handy.com/investing and enter promo code INVESTING.
What is a real estate pro forma, and how does it work? A pro forma is a critical document used to evaluate a piece of real estate. On today's show, Natali and I are discussing the ins and outs of a real estate pro forma so that you can better understand how to project returns.
You're going to learn what a pro forma is, when to use it, and mistakes to avoid! We're sharing a free download, plus having a conversation about logically evaluating a real estate investment. Don't miss episode 589 of Investing in Real Estate!
On this episode you'll learn:
The definition of a real estate pro forma.
Why you should be able to create a pro forma for any deal.
What a pro forma should contain.
And more!
The Definition of a Real Estate Pro Forma
A real estate pro forma is a document, usually created by the seller of a piece of real estate. A pro forma contains all information relevant to the property, and helps the buyer understand the projected returns. In essence, the pro forma exists to help the buyer anticipate cash flow and expenses.
Why You Should Be Able to Create a Pro Forma for Any Deal
Typically, a pro forma is more common for commercial deals. However, it is still a helpful tool on residential properties. While you likely will not receive a pro forma when purchasing rental real estate, you should still create one. This will help you estimate whether or not the asset will perform, and whether or not you should buy it. We've created a free download you can use to assess your next purchase!
What a Pro Forma Should Contain
A comprehensive pro forma should contain the following: sales price, projected rent, projected taxes, projected insurance, property management fee, projected maintenance, vacancy rate, and other expense.
Episode Resources
LinkedIn
Handy
Free Download – Your Pro Forma Spreadsheet
Pro Forma Real Estate on Real Wealth Network
Subscribe to Investing in Real Estate on Apple Podcasts
Find Your Financial Freedom Number
Subscribe to the Morris Invest YouTube channel
Like Morris Invest on Facebook
Ready To Build Passive Income Through Rental Real Estate?
Ready to talk about your goals? We're here to show you the tools and teach you the process to begin earning legacy wealth for you and your family.