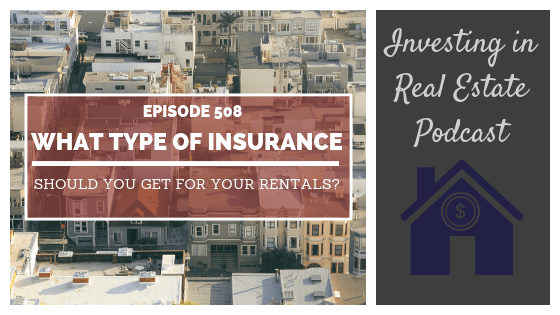 Book a call with our team: https://morrisinvest.com/book-a-call/
Today's episode is sponsored by Vistaprint! With Vistaprint, you can create a truly professional, unique card in minutes. Vistaprint wants you to be able to "Own the Now" in any situation, which is why our listeners will get 500 high-quality, custom business cards starting at $9.99. Just go to Vistaprint.com/INVESTING.
If you're like most people, your knowledge on insurance policies is lacking. But if you're a real estate investor, you'll want to get educated on the insurance industry, and the type of products you should purchase for your investment properties.
On this episode of Investing in Real Estate, we're giving you the run down on getting insurance for your rental properties. You'll learn about the different pieces of an insurance policy, what you need to think about before you purchase insurance, and more!
On this episode you'll learn:
What is a declaration page.

How much you should insure your building for.

What you need to know about making an insurance claim.

If you should consider putting "loss of rent" on your policy.

The two ways to insure personal liability.

How your lender can dictate your insurance policy.

And much more!
Episode Resources
Vistaprint
Wise Up: The Savvy Consumer's Guide to Buying Insurance by Amy Bach & John Sullivan
NREIG Insurance
Financial Freedom Academy
Find Your Financial Freedom Number
Subscribe to the Morris Invest YouTube channel
Like Morris Invest on Facebook
If you're ready to begin building a passive income through rental real estate, book a FREE call with our team today. We're ready to talk about your goals and want to help you learn more about earning legacy wealth for you and your family.
Ready To Build Passive Income Through Rental Real Estate?
Ready to talk about your goals? We're here to show you the tools and teach you the process to begin earning legacy wealth for you and your family.