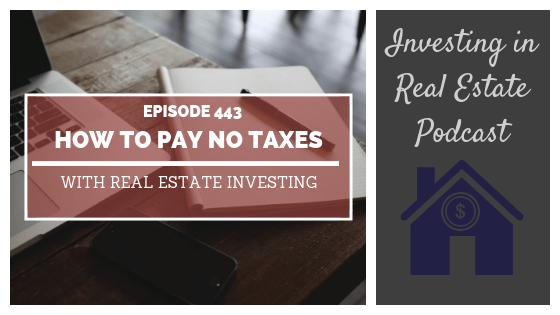 Book a call with our team: https://go.oncehub.com/morrisinvest
Today's episode of Investing in Real Estate is sponsored by ZipRecruiter. Hiring is challenging. But there's one place you can go where hiring is simple, fast and smart. A place where growing businesses connect to qualified candidates. That place is ZipRecruiter. Right now, our listeners can try ZipRecruiter for free by visiting ziprecruiter.com/investing.
This episode is also sponsored by SendPro Online by Pitney Bowes! With SendPro Online, it's easy to save time and money no matter what you send – from packages to overnights and letters. SendPro Online is only $14.99/month, and for being our listener you can get a FREE 30-day trial to get started PLUS a FREE 10 pound scale to help you accurately weigh your packages. Visit pb.com/clayton to redeem this special offer.
The 2018 tax code brought about sweeping changes to the real estate investing industry. From a 20% deduction to bonus depreciation, this tax law offers many incredible advantages to real estate investors. If there's one person who knows and understands the intricacies of the tax law, it's our favorite CPA, Tom Wheelwright.
On this episode, Natali and I are welcoming back Tom Wheelwright to discuss the new tax law and what it means for investors! We'll talk about how to take full advantage of the tax code, how to get the most out of your deductions, and how you can find a real estate savvy CPA! You won't want to miss this episode of Investing in Real Estate!
On this episode you'll learn:
How bonus depreciation works.

How cost segregation has changed in the new tax code.

Why you should conduct a cost segregation in the same year that you purchase a property.

The main reasons why rental real estate should be owned in a passthrough entity

Two ways to take advantage of passive loss.

What you get when you work with the team at WealthAbility!
Episode Resources
ZipRecruiter
Pitney Bowes
Schedule a call with WealthAbility
Tax-Free Wealth by Tom Wheelwright
The WealthAbility Show
EP341: Understanding Cost Segregation – Interview with David Brizel
Subscribe to Investing in Real Estate on iTunes
Find Your Financial Freedom Number
Subscribe to the Morris Invest YouTube channel
Like Morris Invest on Facebook
Contact Tom Wheelwright
Website
Facebook
Twitter
If you're ready to begin building a passive income through rental real estate, book a FREE call with our team today. We're ready to talk about your goals and want to help you learn more about earning legacy wealth for you and your family.
Ready To Build Passive Income Through Rental Real Estate?
Ready to talk about your goals? We're here to show you the tools and teach you the process to begin earning legacy wealth for you and your family.