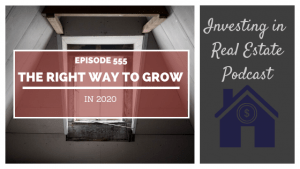 Book a call with our team: https://go.oncehub.com/morrisinvest
As we approach the end of the year, many businesses and individuals find themselves assessing their growth and setting goals. On today's show, I want to discuss the right way to evaluate and measure goals in the new year. No matter what your goal is for 2020, I hope today's show will resonate with you.
You're going to hear about aligning your goals with your purpose. I'll discuss setting real, numbers-based projections, the importance of growing in alignment with your why, and the importance of having a sense of purpose when you're growing. Please join me for episode 555 of Investing in Real Estate!
On this episode you'll learn: 
How I set goals in my business.
The importance of having a strong why.
How to determine if your growth is worthwhile.
How to set real, numbers-based goals.
And more!
Episode Resources
Why Are You Trying to Grow? Seriously, Why? with Brandon Middleton – Episode 533
Financial Freedom Academy
Find Your Financial Freedom Number
Subscribe to the Morris Invest YouTube channel
Like Morris Invest on Facebook
If you're ready to begin building a passive income through rental real estate, book a FREE call with our team today. We're ready to talk about your goals and want to help you learn more about earning legacy wealth for you and your family.
Ready To Build Passive Income Through Rental Real Estate?
Ready to talk about your goals? We're here to show you the tools and teach you the process to begin earning legacy wealth for you and your family.