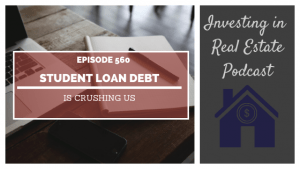 Book a call with our team: https://morrisinvest.com/book-a-call/
You probably already know that student loan debt has impacted many Americans' ability to purchase homes, invest, and save money. But when you actually look at the worsening data from the past decade, the trends are staggering.
Mike Brown, a Research Analyst at LendEDU put together a report on how student loan debt has changed over the past ten years. On this episode of Investing in Real Estate, Mike is sharing his findings and how they impact Americans' finances. We'll also have a conversation about tuition costs, the ROI of going to college, and more!
On this episode you'll learn:
How LendEDU creates financial reports and articles.
How student loan debt has increased in the past decade.
The number of student loan debt borrowers in the US.
Why university tuition costs are increasing.
How student loan debt impacts a borrower's life.
A conversation on the ROI of college.
Episode Resources
How Student Loan Debt Has Changed Over the Past Decade 
Financial Freedom Academy
Find Your Financial Freedom Number
Subscribe to the Morris Invest YouTube channel
Like Morris Invest on Facebook
Connect with Mike Brown
Website
LinkedIn
If you're ready to begin building a passive income through rental real estate, book a FREE call with our team today. We're ready to talk about your goals and want to help you learn more about earning legacy wealth for you and your family.
Ready To Build Passive Income Through Rental Real Estate?
Ready to talk about your goals? We're here to show you the tools and teach you the process to begin earning legacy wealth for you and your family.