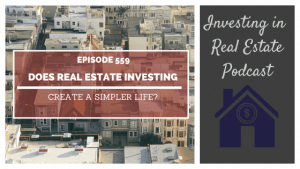 Book a call with our team: https://go.oncehub.com/morrisinvest
This episode is sponsored by HealthIQ! Health IQ uses science & data to secure lower rates for people like YOU on their life insurance. To see if you qualify, go to healthiq.com/investing to take the proprietary Health IQ quiz. Depending upon your score, as well as other related qualifying factors, you can save up to 41% on your life insurance premiums compared to other providers.
If you're seeking a simpler lifestyle, you might consider becoming a full time real estate investor. Real estate investing offers incredible earning potential, without having to attend a 9-5 job. Today, we want to discuss whether or not real estate investing creates a simpler life.
On this episode of Investing in Real Estate, Natali and I are sharing our experience as real estate investors. We'll compare our investing duties to our past careers, and talk about the type of lifestyle we've been able to create. You'll learn about nurturing your portfolio, the responsibilities of an investor, and more!
On this episode you'll learn: 
Why the first week of every month is busy in our family business.
The importance of nurturing your portfolio.
The difference between simplicity and freedom.
Why real estate investing can be difficult.
The difference between passive assets and performing assets.
And more!
Episode Resources
HealthIQ
How to Nurture Your Portfolio of Rental Properties
Financial Freedom Academy
Find Your Financial Freedom Number
Subscribe to the Morris Invest YouTube channel
Like Morris Invest on Facebook
If you're ready to begin building a passive income through rental real estate, book a FREE call with our team today. We're ready to talk about your goals and want to help you learn more about earning legacy wealth for you and your family.
Ready To Build Passive Income Through Rental Real Estate?
Ready to talk about your goals? We're here to show you the tools and teach you the process to begin earning legacy wealth for you and your family.