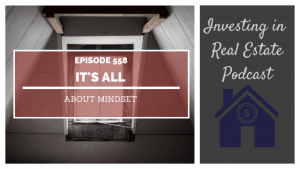 Book a call with our team: https://go.oncehub.com/morrisinvest
Your overall attitude is an important piece of the puzzle when it comes to achieving goals. No matter what your wealth building strategy is, you will be hard-pressed to make progress without the right outlook. Today's guest is here to share how transforming her mindset totally changed her real estate business.
Kaylee McMahon is a real estate investor, brokerage owner, and apartment syndicator who is known as the Apartment Queen. On this episode of Investing in Real Estate, Kaylee is sharing how she has used manifestation to grow her businesses. We'll talk about how to develop a strong money mindset, and how to align your ideas with emotions. Kaylee has so much inspirational wisdom to share on today's show!
On this episode you'll learn:
How Kaylee changed her opinion on manifestation.
The power of self-reflection.
How to build up your mindset.
Why you should set lofty goals.
How to use visualization to reach your goals.
The importance of surrounding yourself with like-minded people.
How Kaylee has overcome obstacles in her real estate business.
Episode Resources
The Secret 
Breaking the Habit of Being Yourself by Dr. Joe Dispenza
Becoming Supernatural by Dr. Joe Dispenza
Dr. Joe Dispenza on Lewis Howes' School of Greatness 
Financial Freedom Academy
Find Your Financial Freedom Number
Subscribe to the Morris Invest YouTube channel
Like Morris Invest on Facebook
Connect with Kaylee McMahon
The Apartment Queen
RE by Kaylee
LinkedIn
If you're ready to begin building a passive income through rental real estate, book a FREE call with our team today. We're ready to talk about your goals and want to help you learn more about earning legacy wealth for you and your family.
Ready To Build Passive Income Through Rental Real Estate?
Ready to talk about your goals? We're here to show you the tools and teach you the process to begin earning legacy wealth for you and your family.