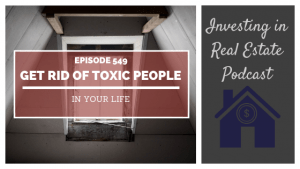 Book a call with our team: https://go.oncehub.com/morrisinvest
When you're trying to make a positive change in your life, it's important to assess sources of negative energy that might be dragging you down. You might find yourself surrounded by negative friends, colleagues, or family members who are sabotaging your growth.
On this episode of Investing in Real Estate, you will learn about five strategies you can use to disarm the toxic people in your life. I'll discuss having compassion, being a positive role model, and more. If you are dealing with naysayers in your life, this episode is for you.
On this episode you'll learn:
The power of practicing empathy.
What to do if you have toxic family members.
How having a conversation can help improve negativity.
What to look for in a friend or business associate.
How to know when to draw the line with toxic people.
And more!
Episode Resources
Financial Freedom Academy
Find Your Financial Freedom Number
Subscribe to the Morris Invest YouTube channel
Like Morris Invest on Facebook
If you're ready to begin building a passive income through rental real estate, book a FREE call with our team today. We're ready to talk about your goals and want to help you learn more about earning legacy wealth for you and your family.
Ready To Build Passive Income Through Rental Real Estate?
Ready to talk about your goals? We're here to show you the tools and teach you the process to begin earning legacy wealth for you and your family.