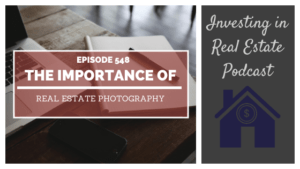 Book a call with our team: https://go.oncehub.com/morrisinvest
This episode of Investing in Real Estate is sponsored by SimpliSafe! SimpliSafe protects your whole home – every window, room and door – with 24/7 monitoring for just a fraction of the cost. There's no contract, hidden fees, or fine print. For free shipping and a 60-day risk-free trial, visit simplisafe.com/investing.
Have you ever thought about the role of photography and marketing within the real estate industry? Whether you're trying to list a property or find a tenant, high quality photos can go a long way in building your business. Today's guest, Darryl Glade, is the co-founder and CEO at the real estate photography platform, Stilio.
Stilio offers an innovative approach to photography for real estate professionals. Their platform connects real estate professionals to photographers. On this episode of Investing in Real Estate, Darryl is sharing the importance of real estate photography. You'll learn about the importance of marketing in real estate, how to get consistent photos, and more!
On this episode you'll learn:
How Darryl identified the need for better real estate photography.
What the main goal of Stilio is, and how they help professionals reach their goals.
How to get consistent photos for your website.
The costs associated with using Stilio.
What to look for in a high quality photo.
The differences between using photos and videos.
The main benefits of using video walkthroughs.
And much more about real estate photography!
Episode Resources
SimpliSafe
Financial Freedom Academy
Find Your Financial Freedom Number
Subscribe to the Morris Invest YouTube channel
Like Morris Invest on Facebook
Connect with Darryl Glade
Website
LinkedIn
If you're ready to begin building a passive income through rental real estate, book a FREE call with our team today. We're ready to talk about your goals and want to help you learn more about earning legacy wealth for you and your family.
Ready To Build Passive Income Through Rental Real Estate?
Ready to talk about your goals? We're here to show you the tools and teach you the process to begin earning legacy wealth for you and your family.