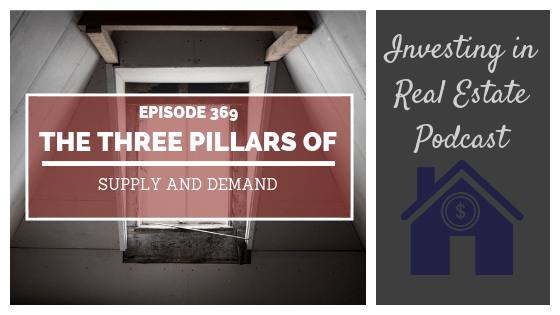 Book a call with our team: https://go.oncehub.com/morrisinvest
This episode of Investing in Real Estate is sponsored by Vistaprint. With Vistaprint, you can create a truly professional, unique business card in minutes. Vistaprint is offering you 500 high-quality, custom business cards starting at $9.99. Visit Vistaprint.com and use code INVESTING.
If you want to build a passive income through buy and hold real estate, you'll have to understand the basic principles of supply and demand. This basic knowledge will help you to select a viable rental market, find tenants, and gain an income.
On this episode of Investing in Real Estate, I'm sharing the three pillars of supply and demand. You'll learn basic definitions, clear examples, and why supply and demand is so important for real estate investing. You won't want to miss episode 369!
On this episode you'll learn:
What kinds of employers to look for in a rental market.

The importance of American-based infrastructure.

Examples of good rental markets.

The types of neighborhoods that retain population.

Why location matters.

And much more!
Episode Resources
Vistaprint
Subscribe to Investing in Real Estate on Apple Podcasts
Find Your Financial Freedom Number
Subscribe to the Morris Invest YouTube channel
Like Morris Invest on Facebook
If you're ready to begin building a passive income through rental real estate, book a FREE call with our team today. We're ready to talk about your goals and want to help you learn more about earning legacy wealth for you and your family.