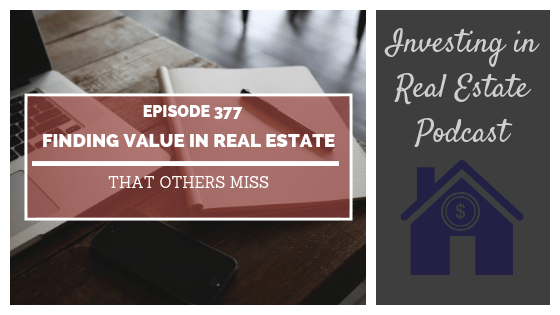 Book a call with our team: https://go.oncehub.com/morrisinvest
Today's episode of Investing in Real Estate is sponsored by SimpliSafe! Order your SimpliSafe security system today at SimpliSafe.com/investing!
On today's episode of Investing in Real Estate, I'm sitting down with an incredible investor, Dr. Dan Handford! Dan is a doctor, a successful real estate investor, and the host of the Tough Decisions for Entrepreneurs podcast.
Dan is here to share high level real estate tips like cost segregation, how to find multifamily investments, and how to take advantage of tax benefits available to real estate investors. We'll discuss Dan's specific investing strategy, and his best tips for conducting a renovation. Don't miss episode 377!
On this episode you'll learn:
The types of properties that Dan invests in.

Why America is becoming a renter nation.

How to reposition a rental property.

What it means to find your tenant base.

How to ensure you're not over upgrading a rental property.

The definition of a cost segregation.

Dan's take on the current market.

And much more!
Episode Resources
SimpliSafe
EP359: Why Large Multi-Family Deals Don't Make Sense Right Now – Interview with Ken McElroy
Clayton on Tough Decisions for Entrepreneurs Podcast
Subscribe to Investing in Real Estate on Apple Podcasts
Find Your Financial Freedom Number
Subscribe to the Morris Invest YouTube channel
Like Morris Invest on Facebook
Contact Dr. Dan Handford
Website
Facebook
Twitter
LinkedIn
If you're ready to begin building a passive income through rental real estate, book a FREE call with our team today. We're ready to talk about your goals and want to help you learn more about earning legacy wealth for you and your family.
Ready To Build Passive Income Through Rental Real Estate?
Ready to talk about your goals? We're here to show you the tools and teach you the process to begin earning legacy wealth for you and your family.