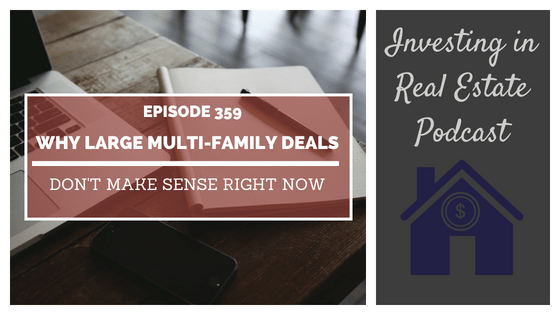 EP359: Why Large Multi-Family Deals Don't Make Sense Right Now – Interview with Ken McElroy
Book a call with our team: https://go.oncehub.com/morrisinvest
Today's episode of Investing in Real Estate is sponsored by Purple. Purple is a leading comfort tech company that uses cutting-edge science to create the world's most comfortable sleep and sit products. Right now, our listeners will get a FREE sheet set and mattress cover with any mattress purchase. Get yours at Purple.com/INVESTING. 
If you've started to think about investing in multi-family real estate investments, it can be easy to become starry-eyed. You might imagine higher ROI, multiple incomes from one property, and more cash flow. But before you decide to bypass the single-family route all together, you'll want to hear today's show.
On this episode of Investing in Real Estate, real estate legend and Rich Dad advisor Ken McElroy is back to share why he has pulled back the reigns on his multi-family investing strategy. We'll talk about the current market, why multi-family investing isn't working right now, and how to pivot as an investor.
On this episode you'll learn:
What Ken thinks of the current real estate market.
The factors that are driving multi-family prices up.
What Ken looks for in a real estate deal.
How to approach value adds on a single-family investment.
How the homeownership rate has changed over the years.
The benefits of investing in the single-family niche.
One important quality to look for in a rental market to attract quality tenants.
And much more
Episode Resources
Purple
The ABCs of Real Estate Investing by Ken McElroy
MC Companies
Emerging Trends in Real Estate – ULI Report
Subscribe to Investing in Real Estate on Apple Podcasts
Find Your Financial Freedom Number
Subscribe to the Morris Invest YouTube channel
Like Morris Invest on Facebook
Contact Ken McElroy
Website
Facebook
Twitter
LinkedIn
If you're ready to begin building a passive income through rental real estate, book a FREE call with our team today. We're ready to talk about your goals and want to help you learn more about earning legacy wealth for you and your family.
Ready To Build Passive Income Through Rental Real Estate?
Ready to talk about your goals? We're here to show you the tools and teach you the process to begin earning legacy wealth for you and your family.