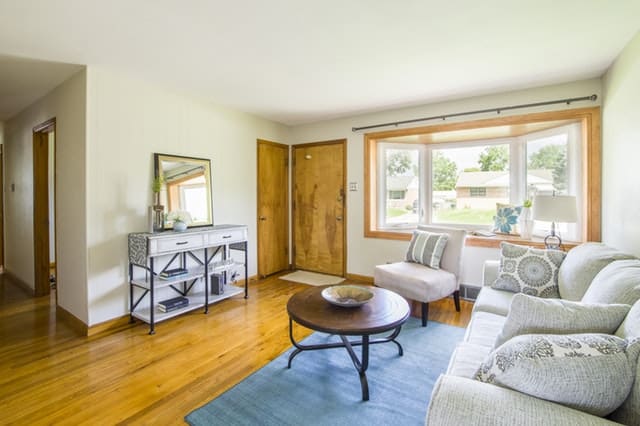 Tenants search for properties with affordable rent, of course, but they don't make a decision based on that alone. They're browsing for rentals with attractive features and renovations that separate their selection from similar buildings. It presents a problem for investors like yourself.
On the one hand, you want to differentiate your property and enhance its appeal. On the other hand, you're working within the limitations of your budget. You have to take a strategic approach to upgrading your rental, choosing improvements that have a high ROI.
With this in mind, what renovations do tenants want, and which of them are affordable? While solar panels might be a major selling point, they often fall outside the price range of most investors. You need to remain realistic, selecting not the best, but the smartest investments for your rental.
Here are three of the wisest investments that provide cost-effective changes to draw interest and increase your rent rate.
1. Hardwood Flooring
Some investors might hesitate over hardwood, uneasy with its price. While it's true some species of wood are expensive, many of them are reasonable when you consider the cost of replacing carpeting. You won't have to take such drastic measures to preserve and protect boards from damage.
You also won't have to account for occupants with allergies who are sensitive to carpeting, broadening your pool of potential tenants. As long as you shop around and get multiple estimates, you'll find a few within your budget. With softer woods as low as $3 to $6 per square foot, prices are relatively fair.
2. Energy-Efficient Windows
More tenants are searching for properties with eco-friendly features. With the growing popularity of green lifestyles, energy-efficient rentals attract people who want to reduce their expenditure and lessen their impact. With new windows, you'll appeal to this demographic and lower energy bills.
As context, energy-efficient windows can cut your energy bills by up to 35 percent. You can also expect to recoup up to 74 percent of your investment, which makes the addition of new windows a valuable renovation with both short- and long-term benefits. They're well worth the cost.
3. Exterior Improvements
The presentation of your property is just as important as its features. As tenants browse sites like Craigslist and Apartments.com, they'll actively search for rentals that look welcoming and comfortable, judging them on the quality of their exterior appearance. It's the hook that catches their interest.
You don't have to spend much to sharpen your hook and boost your property's curb appeal. Just make a round of your rental and look for areas that need improvement, like an old fence, peeling paint, weeds or untended landscaping. Keeping your property in good condition is one of the simplest ways to maximize its rent rate.
Review All Your Available Options
As tenants search for properties, your rental will stand out among the rest. With an attractive, well-maintained exterior, hardwood flooring and energy-efficient windows, they won't think twice about signing a lease.
Of course, it isn't as simple as calling contractors in your area and scheduling your projects. Before you begin, calculate your budget and see which of the improvements above are relevant to your goals. Depending on what your plans are for the property, your policies concerning animals and other small details, you'll have to prioritize. Fortunately, any one of these renovations will yield a strong ROI.
Take things slow and review all your available options. As long as you take a strategic approach, your rental will remain in high demand for years to come.
Want to know which improvements are a waste of money? Check out this video!
Holly Welles is the editor behind The Estate Update, where she shares real estate tips and ideas for home fixes. She's passionate about staying on top of recent market trends despite her impractical love for the oldest houses in town.
Ready To Build Passive Income Through Rental Real Estate?
Ready to talk about your goals? We're here to show you the tools and teach you the process to begin earning legacy wealth for you and your family.