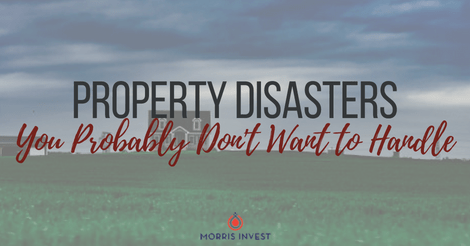 Your dream of building a passive income may look a lot different than what your real estate investment is actually like if you're handling a property yourself. There are any number of disasters, both natural and human-made, that you might not have prepared for and can quickly suck the profit out of your investment.
The cost of properties is on the rise as real estate investment demand increases. If you want to succeed in this highly competitive, but potentially profitable market, there are a few key possible disasters you should make sure you're aware of – and have someone on hand to handle them.
1. Bad Renters
There are nearly 44 million renter-occupied homes in the United States. Out of 44 million renters, you're guaranteed to have a few bad ones. If you're unfortunate enough to rent to people who are destructive or don't pay their rent, you need to know the laws in your area and how you can evict the tenants promptly.
If you're new to the rental property game, hiring a property manager is well worth the investment. They know how to quickly vet potential renters and weed out the ones who are likely to default on rent or do significant damage to your home. This also frees up more of your time and sets you on the path to truly passive investment.
To prepare for this scenario, you should always have an emergency fund for repairs and full insurance on the property.
2. Long Insurance Claim Processes
Working with insurance companies isn't always an easy process, however. You must first file a claim, then wait for an adjuster to come and give you an estimate of damages, get bids and work with the insurance company to resolve the claim. In the meantime, your home — and your wallet — may sit empty waiting on repairs as no money is coming in.
Get all the reimbursement you're entitled to by working with your claims adjuster. Speed up the process by sending items such as photos and documentation to your adjuster as quickly as possible.
Not interested in enduring this? Yet another reason to take the responsibility out of your hands.
3. Natural Disasters
Some insurance policies have an "act of God" clause in them, which tends to include things such as tornadoes or hail storms. Review your insurance policy carefully, or you might wind up with a policy that doesn't cover a major event that destroys your home.
Policies often have tricky wording, so if you aren't sure what is and isn't covered ask for a second set of eyes to look over the plan for you. If you work with a property management company, they may have suggestions for the best insurance policies to meet your needs.
4. Extended Vacancies
You probably count on the rent to help you pay the mortgage on your investment property. The ideal scenario is keeping your property rented for 12 months out of the year. However, the reality isn't quite that cut and dry. When one renter moves on, it may take several months to rent the property again.
If you must do updates or maintenance work, that may also slow down the process, leaving the property vacant while you complete the work. Hiring a property management company may shorten the time between renters. You will pay them a fee based on what you rent the property for, but you'll also gain months of rent when your place isn't sitting empty. It benefits the property management company to keep your investment rented as they earn income when you earn income.
Overcoming Property Disasters
These are just a few of the unforeseen circumstances that might occur when renting property. While real estate can be a risky game, hiring the right people to handle these emergencies can often make the difference between getting in over your head and coasting off your investment.
Holly Welles is the editor behind The Estate Update, where she shares real estate tips and ideas for home fixes. She's passionate about staying on top of recent market trends despite her impractical love for the oldest houses in town.
Ready To Build Passive Income Through Rental Real Estate?
Ready to talk about your goals? We're here to show you the tools and teach you the process to begin earning legacy wealth for you and your family.