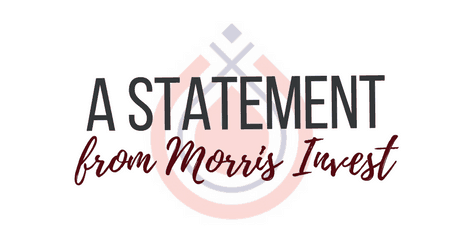 Recently customers of Oceanpointe Property Management were notified that the company is going out of business and transitioning to a new company called AHI Property Management. After search and discovery on behalf of our investors, we have found that this is not true. Oceanpointe Property Management remains in business and intends to continue to be.
It appears that this notice from AHI was a premature announcement from an unsanctioned employee. The poorly-worded grammar and the fact that it was not a blind copy seems to corroborate that story but we have only half of the facts.
At Morris Invest, we are as perplexed by this as you are.
We have had a long-standing relationship with Oceanpointe for property management and rehabs. Last year, Morris Invest referred hundreds of investors to Oceanpointe. This created a backlog of rehabs and longer-than-expected completion timeframes on jobs. Because of this, we decided to start our own property management company in March called Blue Sky Property Management LLC operating solely in our Indianapolis market. We have also partnered with another property management company called Home River to meet the needs of our ever-expanding group of investors. This has allowed us to solve some of the overage problems that were created with Oceanpointe as our main partner in this market.
Oceanpointe does not intend to turn its customers over to AHI. The statement below is from Shelby Glenn at Oceanpointe:
"We had tried to work with AHI to strengthen our services and unfortunately that has not been the case. Many of you have been with us for a long time and know that we run a tight ship. Due to blogs and many other naysayers and competitors that have been all over us we have lost employees and clients.  We have since replaced those employees and have people back out on the streets which is what makes us different then all other c class management companies . All of us at Oceanpointe intend to go forward as we have for the past 22 years. We are not going out of business we are merely restructuring going back to our old way of doing things that made us successful. Basically we are slowing down to speed up. We would love anyone who's interested in staying with us to schedule a call with Natalie Bastin or Herbert Whalen over the next 30 days to discuss how things will work going forward. If you're interested in staying with Oceanpointe please schedule a call with us we would love to talk to you and get you back on our team.  To schedule this call please email myself at shelby@ocanpointepm.com Ericka at ericka@oceanpointepm.com, Bert at Hfwhalen@gmail.com or Natalie at natalie@oceanpointepm.com."
At Morris Invest, we are feeling the profound effects of growth and restructuring. We are working to be an advocate for our investors, no matter who their property management company will be going forward. If you remain with Oceanpointe, they will handle any outstanding issues you will have from here on out. Please reach out to the contacts above. If you are in the midst of a rehab project, Morris Invest will work with the contracted team to move you across the finish line and reduce wait times to the best of our ability.
Our promise to you is this: We will run our property management company to meet your needs with as much transparency and communication as we can. We will refer investors to companies that we know can meet their immediate needs. We will help you solve what needs solving to the best of our ability.
We are very sorry for this confusion.
Sincerely,
Clayton and Natali Morris
Co-Founders, Morris Invest
Ready To Build Passive Income Through Rental Real Estate?
Ready to talk about your goals? We're here to show you the tools and teach you the process to begin earning legacy wealth for you and your family.