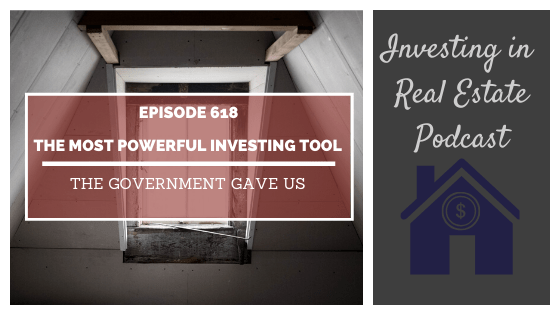 There is one particular investing tool that the US government makes available to its citizens that has incredible wealth building benefits. On today's show, you're going to learn about this tool, how it works, and its many benefits! Unless you're dialed into investing strategies, you might not know that this tool exists or how you can utilize it to maximize your retirement.
On this episode of Investing in Real Estate, you're going to learn the mind-blowing ways a self-directed Roth IRA can accelerate your retirement savings. If you take advantage of this strategy, you can dramatically alter your financial future. If you're interested in building wealth, growing your portfolio, and maximizing your retirement plan, this episode is for you!
On this episode you'll learn:
Why the Roth IRA is so powerful.
The biggest misconception about Roth IRAs vs. traditional IRAs.
How to build exponential wealth in a self-directed Roth IRA.
And much more!
Why the Roth IRA is So Powerful
The Roth IRA is the only tax-free vehicle available to US citizens. If you plan on retiring wealthier than you are now, the Roth IRA is the best bet for you. With a Roth IRA, all withdrawals after age 59½ are tax-free. Plus as a real estate investor, any rental contributions to your account This means your money is growing tax-free, and your sizable retirement account is entirely yours for the taking.
The Biggest Misconception About Roth IRAs vs. Traditional IRAs
Wanting instant gratification is human nature. When you choose between a traditional and a Roth IRA, you're essentially choosing whether you want to be taxed now or later. Instinctually, you might want to put off the burden of taxes. However, the question you should instead be asking yourself is, "am I planning to retire in a higher tax bracket?" And if the answer is yes, a Roth IRA is the right fit for you.
How to Build Exponential Wealth in a Self-Directed Roth IRA
Did you know that you can purchase real estate within a self-directed Roth IRA? When you buy real estate in your account, your tenants' rent is building your retirement! The property is owned by the IRA, the management is handled by the custodian, and your account balance is building month-after-month! If you're interested in utilizing this strategy, book a call with our team!
Episode Resources
Book a Call with Our Team
Subscribe to Investing in Real Estate on Apple Podcasts
Find Your Financial Freedom Number
Subscribe to the Morris Invest YouTube channel
Like Morris Invest on Facebook
DISCLAIMER: I am not a financial adviser. I only express my opinion based on my experience. Your experience may be different. These videos are for educational and inspirational purposes only. Investing of any kind involves risk. While it is possible to minimize risk, your investments are solely your responsibility. It is imperative that you conduct your own research. There is no guarantee of gains or losses on investments.
AFFILIATE DISCLOSURE: Some of the links on this channel are affiliate links, meaning, at NO additional cost to you, I may earn a commission if you click through and make a purchase and/or subscribe. However, this does not impact my opinion. We recommend them because they are helpful and useful, not because of the small commissions we make if you decide to​ use their services. Please do not spend any money on these products unless you feel you need them or that they will help you achieve your goals.
Ready To Build Passive Income Through Rental Real Estate?
Ready to talk about your goals? We're here to show you the tools and teach you the process to begin earning legacy wealth for you and your family.