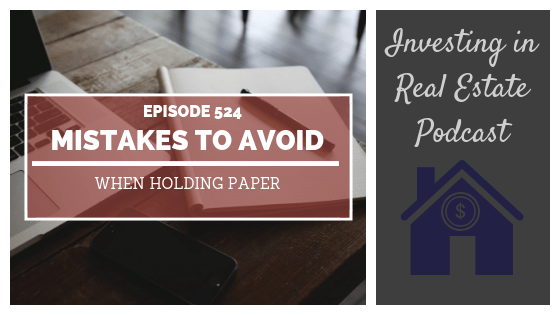 Book a call with our team: https://go.oncehub.com/morrisinvest/?utm_source=MIblog&utm_medium=MIBlog&utm_campaign=MIblog&Source=MIblog
Today's episode is sponsored by Vistaprint! For small business owners, being plugged in and prepared when an opportunity comes up is crucial. Those moments happen all the time… they're happening now. And having a business card that shows how professional you are in your pocket, ready to hand out, is the first step to making something happen. Vistaprint wants you to be able to "Own the Now" in any situation, which is why our listeners will get free shipping on all business cards, any style, any quantity. Just go to Vistaprint.com and enter promo code INVESTING2 for free shipping on all business cards, any style, any quantity. Limited time offer.
Physical rental properties are not the only performing asset that can help you build wealth. Holding paper, also known as seller financing, is a smart way to diversify, bring in cash flow, and create financial freedom. And on the other hand, if you're looking to acquire real estate, owner financing can be a smart way to make a purchase.
Today's guest, Mark Ross, is the CEO at Good Steward Lending Services, a company that provides solutions to buy, sell, and lend against notes. On today's show, Mark is starting the ins and outs of holding paper, including the subtleties of the Dodd Frank law, the benefits of owner financing, and how to create a deal that is beneficial for all involved parties. Don't miss episode 524 of Investing in Real Estate!
On this episode you'll learn:
How owner financing can benefit the buyer and the seller.

What the RMLO strategy is.

The types of transactions Good Steward Lending Services offers.

Why holding paper is so marketable, and the power of negotiation.

What you need to know about Dodd Frank.

And much more!
Episode Resources
Vistaprint
Find Your Financial Freedom Number
Subscribe to the Morris Invest YouTube channel
Like Morris Invest on Facebook
Connect with Mark Ross
Website
LinkedIn
If you're ready to begin building a passive income through rental real estate, book a FREE call with our team today. We're ready to talk about your goals and want to help you learn more about earning legacy wealth for you and your family.
Ready To Build Passive Income Through Rental Real Estate?
Ready to talk about your goals? We're here to show you the tools and teach you the process to begin earning legacy wealth for you and your family.