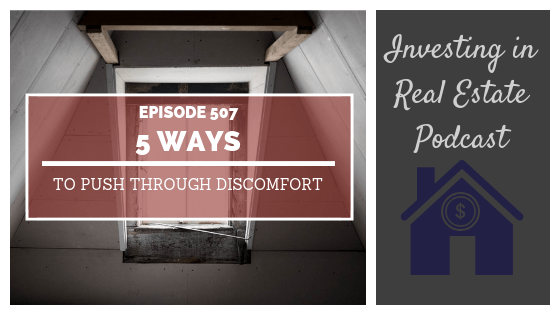 Book a call with our team: https://go.oncehub.com/morrisinvest
This episode is sponsored by The Great Courses Plus! When it comes to planning for the future, the best investment we can make is in ourselves. That's what The Great Courses Plus is all about! Unlock a world of knowledge with The Great Courses Plus. Right now, they're offering our listeners a  FREE month of unlimited access to their entire library! Start your free month by visiting thegreatcoursesplus.com/INVESTING.
If you're wanting to make a positive change in your life, you're bound to experience some discomfort along the way. When the process gets hard, that's when it's easiest to give up. But if you can learn how to push through the discomfort, that's how you can truly reach your goals.
On this episode of Investing in Real Estate, you'll learn five ways to push through discomfort so that you can grow! We'll talk about overcoming challenges, blocking out naysayers, and how to celebrate your milestones. Don't miss episode 507!
On this episode you'll learn:
How investing in real estate and running are similar.

The importance of paying attention to your emotions.

How to prepare yourself for challenges.

How visualization can help you achieve your goals.

Why you should disregard naysayers.

And more!
Episode Resources
The Great Courses Plus
Couch to 5k App
Find Your Financial Freedom Number
Subscribe to the Morris Invest YouTube channel
Like Morris Invest on Facebook
If you're ready to begin building a passive income through rental real estate, book a FREE call with our team today. We're ready to talk about your goals and want to help you learn more about earning legacy wealth for you and your family.
Ready To Build Passive Income Through Rental Real Estate?
Ready to talk about your goals? We're here to show you the tools and teach you the process to begin earning legacy wealth for you and your family.