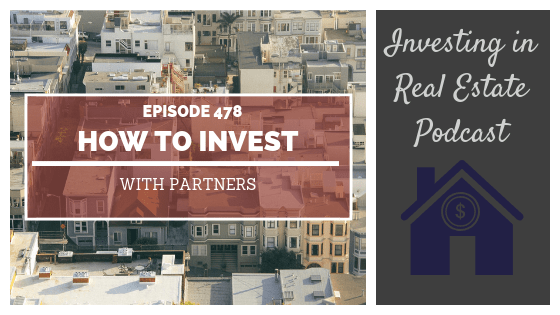 Book a call with our team: https://go.oncehub.com/morrisinvest/?utm_source=MIblog&utm_medium=MIBlog&utm_campaign=MIblog&Source=MIblog
This episode of Investing in Real Estate is sponsored by The Great Courses Plus! The Great Courses Plus was founded on the idea that education should be accessible to everyone. Right now, they're giving my listeners a special, limited-time offer: a FREE month of unlimited access to their entire library! Start your free trial today by visiting thegreatcoursesplus.com/INVESTING.
We often get questions about setting up LLCs or partnerships for real estate investing. On today's show, we are deep diving into the structure of partnerships and how they work.
This episode was originally aired as a live stream on our YouTube channel. You'll learn about the best way to invest with a partner, how to protect yourself when investing with a partner, and more! Don't miss episode 478 of Investing in Real Estate!
On this episode you'll learn:
The importance of seeking legal advice when investing with a partner.

The tax benefits of owning a corporation.

My bad experience investing with partners.

Why a general partnership can be risky.

The best book for learning about setting up your business.
Episode Resources
The Great Courses Plus
Watch the Video on YouTube
Start Your Own Corporation by Garrett Sutton
Corporate Direct
Our Real Estate Investing Story
How to Use Promissory Notes
EP145: How to Deed a Property to an LLC
Why Financial Advisors Won't Talk to You About Real Estate
The Ultimate Self-Directed IRA Episode
Private Money Series
Getting the Money by Susan Lassiter-Lyons
Find Your Financial Freedom Number
Subscribe to the Morris Invest YouTube channel
Like Morris Invest on Facebook
If you're ready to begin building a passive income through rental real estate, book a FREE call with our team today. We're ready to talk about your goals and want to help you learn more about earning legacy wealth for you and your family.
Ready To Build Passive Income Through Rental Real Estate?
Ready to talk about your goals? We're here to show you the tools and teach you the process to begin earning legacy wealth for you and your family.