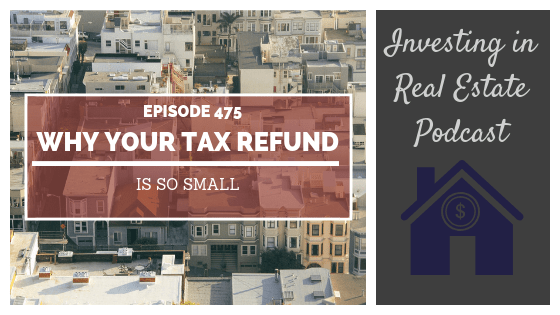 Book a call with our team: https://go.oncehub.com/morrisinvest
If you were surprised by a smaller tax refund this year, you'll need to make a few changes in 2019. Tax planning is a year-long proactive strategy. If you want to take initiative and ensure a better outcome next tax season, there are three key areas you should focus on in order to reduce your overall tax burden.
On this episode of Investing in Real Estate, you'll learn how to build wealth and pay less in taxes! I'm sharing three main areas you should concentrate on, how debt ties into wealth building, and more!
On this episode you'll learn:
The power of debt for building wealth.

The difference between good debt and abad debt.

What you need to know about amortized debt.

Why you should have a business.

The power of depreciation.

And more!
Episode Resources
Find Your Financial Freedom Number
Subscribe to the Morris Invest YouTube channel
Like Morris Invest on Facebook
If you're ready to begin building a passive income through rental real estate, book a FREE call with our team today. We're ready to talk about your goals and want to help you learn more about earning legacy wealth for you and your family.
Ready To Build Passive Income Through Rental Real Estate?
Ready to talk about your goals? We're here to show you the tools and teach you the process to begin earning legacy wealth for you and your family.