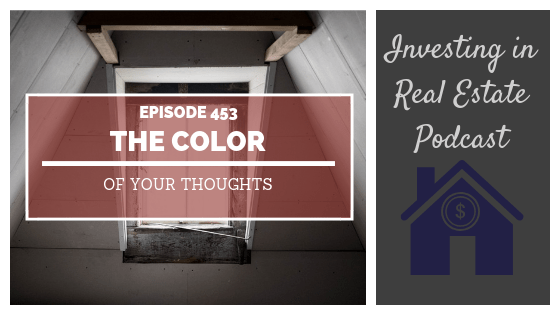 Book a call with our team: https://go.oncehub.com/morrisinvest
This episode of Investing in Real Estate is sponsored by Pitney Bowes! With SendPro Online by Pitney Bowes, it's easy to save time and money no matter what you send – from packages to overnights and letters. SendPro Online is only $14.99/month. And for being an Investing in Real Estate listener, you can get a FREE 30-day trial to get started PLUS a FREE 10 pound scale to help you accurately weigh your packages. Visit pb.com/clayton to redeem this offer.
Creating financial freedom can be a mental game. Many people let themselves become defined by their struggles, and are held back by their mind. Being focused on negativity leads only to negative outcomes.
On this episode of Investing in Real Estate Investing, we're going to discuss changing the color of your thoughts in order to change your outcomes. You're going to learn three steps to take in order to focus on positivity, and how to start working toward your goals through mindset. Don't miss episode 453!
On this episode you'll learn:
How our minds begin to go down a negative rabbit hole.

The three steps you need to take to create an outcome.

Why changing your life is like ordering at a restaurant.

The important correlation between steps one and three.

How to pay attention to the stories you tell yourself.

And more!
Episode Resources
Pitney Bowes
Meditations by Marcus Aurelius
Find Your Financial Freedom Number
Subscribe to the Morris Invest YouTube channel
Like Morris Invest on Facebook
If you're ready to begin building a passive income through rental real estate, book a FREE call with our team today. We're ready to talk about your goals and want to help you learn more about earning legacy wealth for you and your family.
Ready To Build Passive Income Through Rental Real Estate?
Ready to talk about your goals? We're here to show you the tools and teach you the process to begin earning legacy wealth for you and your family.