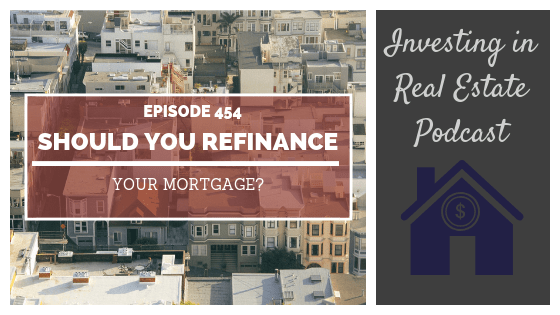 Book a call with our team: https://go.oncehub.com/morrisinvest
This episode is sponsored by Blinkist! Blinkist is the only app that takes the best key takeaways, the need-to-know information from thousands of nonfiction books and condenses them down into just 15 minutes so you can read or listen to. Right now, for a limited time Blinkist has a special offer just for our audience. Go to blinkist.com/investing to start your free 7-day trial!
With mortgage rates dropping, many homeowners are left wondering if they should refinance their homes. Like many finance decisions, this can vary based on your personal situation.
On today's show, we're here to help you determine if you should refinance your mortgage! We'll walk you through a simple formula, and discuss some caveats. You'll learn about closing costs, interest rates, pre-payment penalties, and more!
On this episode you'll learn:
Why now might be a good time to refinance.

How to calculate whether or not you should refinance your loan.

The details of how a mortgage refinance works.

Why you need to consider if you will recoup the closing costs.

The two numbers you need to know before you refinance.

And much more!
Episode Resources
Blinkist
How to Pay Off Your Mortgage in 5 Years by Clayton and Natali Morris
Getting the Money by Susan Lassiter-Lyons
How to Take Title on an Investment Property – Episode 295
Find Your Financial Freedom Number
Subscribe to the Morris Invest YouTube channel
Like Morris Invest on Facebook
If you're ready to begin building a passive income through rental real estate, book a FREE call with our team today. We're ready to talk about your goals and want to help you learn more about earning legacy wealth for you and your family.
Ready To Build Passive Income Through Rental Real Estate?
Ready to talk about your goals? We're here to show you the tools and teach you the process to begin earning legacy wealth for you and your family.