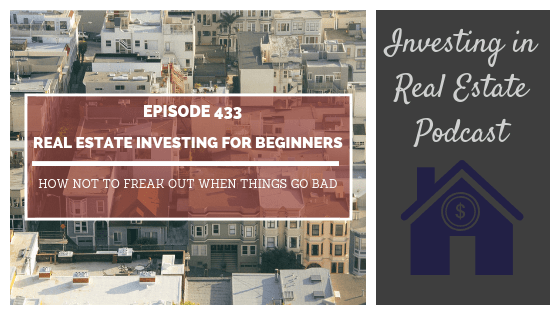 Book a call with our team: https://go.oncehub.com/morrisinvest
Today's episode of Investing in Real Estate is sponsored by Pitney Bowes! SendPro Online by Pitney Bowes is an online software that helps you save time and money no matter what you send. SendPro Online is only $14.99/mo, and listeners can get a FREE 30 day trial when you visit pb.com/clayton.
Just like any other business model, sometimes in real estate investing, things go wrong. From soured business partnerships to unexpected repairs, it's inevitable that you will hit a few roadblocks throughout your investing career.
On this episode of Investing in Real Estate, Natali and I are sharing how to keep your cool when things go awry in your real estate business. We're discussing why real estate can be so emotional, tips for rationalizing through the pain points, and why it's so important to not overreact. Don't miss episode 433!
On this episode you'll learn:
Why so many people have extreme reactions when it comes to investment performance.
How to compare your portfolio to the stock market.

Why society's general outlook of investing is jaded.

How to use math to help you rationalize a problem.

An interesting perspective on disaster from a wealthy investor.

Our personal experience with dealing with problems.

And more!
Episode Resources
Pitney Bowes
There's a Cat Stuck in My Furnace – Episode 297
Find Your Financial Freedom Number
Subscribe to the Morris Invest YouTube channel
Like Morris Invest on Facebook
If you're ready to begin building a passive income through rental real estate, book a FREE call with our team today. We're ready to talk about your goals and want to help you learn more about earning legacy wealth for you and your family.
Ready To Build Passive Income Through Rental Real Estate?
Ready to talk about your goals? We're here to show you the tools and teach you the process to begin earning legacy wealth for you and your family.