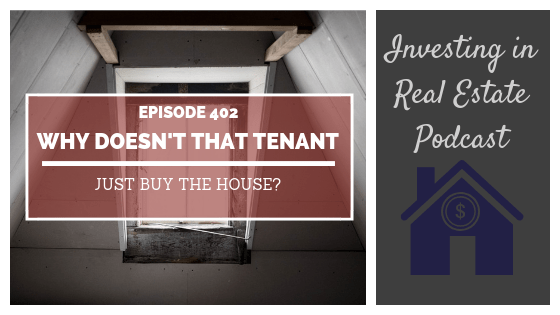 Book a call with our team: https://go.oncehub.com/morrisinvest
This episode of Investing in Real Estate is sponsored by Corporate Direct. Corporate Direct helps entrepreneurs and investors in protecting their assets and incorporating their businesses. To save $100 off your asset protection services, visit https://morrisinvest.com/LLC.
Since our rental properties tend to be relatively cheap homes, we often get asked why a tenant would rent instead of simply purchasing the home. And although it might sound like a simple question, it turns out the reality isn't so black and white.
On this episode of Investing in Real Estate, you'll learn four different reasons why a tenant might choose to live in a rental property, instead of becoming a homeowner. You'll learn about economics, getting out of your own mindset, and how the banks often come into play. Don't miss episode 402 of Investing in Real Estate!
On this episode you'll learn:
Why homeownership isn't always the obvious answer for many Americans.

The reality of down payments for many tenants.

What Millennials have to do with rental rates.

The reason why many banks don't lend on low cost homes.

Why real estate investing is a virtuous circle.

And much more!
Episode Resources
Corporate Direct
Are We Becoming a Rental Nation? – Episode 387
Subscribe to Investing in Real Estate on Apple Podcasts
Find Your Financial Freedom Number
Subscribe to the Morris Invest YouTube channel
Like Morris Invest on Facebook
If you're ready to begin building a passive income through rental real estate, book a FREE call with our team today. We're ready to talk about your goals and want to help you learn more about earning legacy wealth for you and your family.
Ready To Build Passive Income Through Rental Real Estate?
Ready to talk about your goals? We're here to show you the tools and teach you the process to begin earning legacy wealth for you and your family.