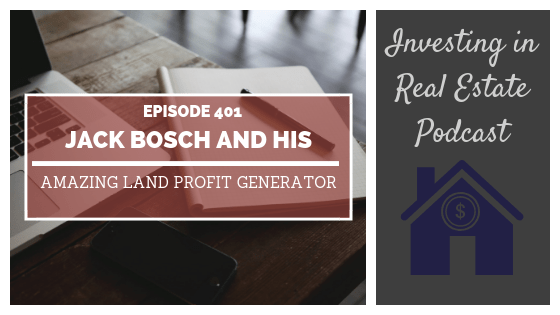 Book a call with our team: https://go.oncehub.com/morrisinvest/?utm_source=MIblog&utm_medium=MIBlog&utm_campaign=MIblog&Source=MIblog
This episode of Investing in Real Estate is sponsored by eero. With eero, you can install an enterprise-grade WiFi system in your home in just a few minutes. To get $100 off the best-selling WiFi package and a year of eero Plus, visit eero.com/clayton and enter code CLAYTON at checkout.
There are many ways to create wealth through real estate investing, and one interesting strategy involves flipping land. This is an often overlooked method, and can be incredibly profitable if done correctly.
Jack Bosch is a real estate investor and educator who has made millions from investing in raw land. On today's show, he's sharing the finer details of his investing strategy, and how he has helped thousands of people create success through his system. You'll learn Jack's storied past in different real estate niches, and how he created a proven raw land system. Don't miss episode 401 of Investing in Real Estate!
Sign up for Jack's Land Profit Generator 2.0 Program!
On this episode you'll learn:
How Jack came to the United States.

The difference between land flipping and house flipping in terms of money.

How much Jack made on his first deal.

The different wholesaling techniques that Jack has utilized.

How technology helps Jack run his business.

The market value that Jack looks for in a deal.

The three different kinds of lots.

Why you should ignore cheap land lots.

And much more!
Episode Resources
eero
Jack's Land Profit Generator 2.0 Program
Subscribe to Investing in Real Estate on Apple Podcasts
Find Your Financial Freedom Number
Subscribe to the Morris Invest YouTube channel
Like Morris Invest on Facebook
Contact Jack
Website
Facebook
Twitter
If you're ready to begin building a passive income through rental real estate, book a FREE call with our team today. We're ready to talk about your goals and want to help you learn more about earning legacy wealth for you and your family.
Ready To Build Passive Income Through Rental Real Estate?
Ready to talk about your goals? We're here to show you the tools and teach you the process to begin earning legacy wealth for you and your family.