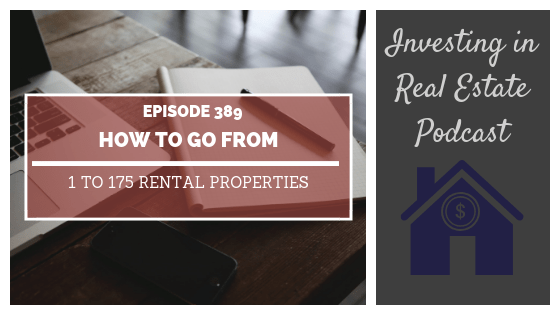 Book a call with our team: https://go.oncehub.com/morrisinvest/?utm_source=MIblog&utm_medium=MIBlog&utm_campaign=MIblog&Source=MIblog
Today's episode of Investing in Real Estate is sponsored by Fin! Fin does everything a great assistant can without the cost and commitment of a full-time hire. Try Fin for FREE by visiting our special link—http://fin.com/investing.
Today's episode is also sponsored by Stamps.com! With Stamps.com, you can access all of the services of the Post Office right from your desk. Right now, you can get a 4-week trial that includes postage and a digital scale. Visit stamps.com, click on the radio microphone at the top of the home page and type in code INVESTING.
What would your life be like if you could create enough passive income from rental real estate to quit your job? I'm excited to share today's show with you, because our guest has done just that—one rental at a time.
On this episode of Investing in Real Estate, I'm sitting down with Michael Zuber from One Rental at a Time! Michael is sharing his incredible journey from life behind an accountant's desk to creating financial independence through buy and hold real estate. We'll talk about Michael's first property, the struggles he's faced as an investor, and his outlook moving forward!
On this episode you'll learn:
How Michael started as a real estate investor.

The meaning behind Michael's acronym, CRAP.

The details of his first rental property.

Some of the problems that Michael encountered on his first deal.

Different ways to creatively finance.

Michael's original goal, and how it has shifted.

Tax tips for real estate investors.

How Michael used a 1031 exchange to go from 8 to 80 properties.

And much more!
Episode Resources
Fin
Stamps.com
The Ultimate Guide to 1031 Exchanges
Subscribe to Investing in Real Estate on Apple Podcasts
Find Your Financial Freedom Number
Subscribe to the Morris Invest YouTube channel
Like Morris Invest on Facebook
Contact Michael Zuber
LinkedIn
YouTube
If you're ready to begin building a passive income through rental real estate, book a FREE call with our team today. We're ready to talk about your goals and want to help you learn more about earning legacy wealth for you and your family.
Ready To Build Passive Income Through Rental Real Estate?
Ready to talk about your goals? We're here to show you the tools and teach you the process to begin earning legacy wealth for you and your family.