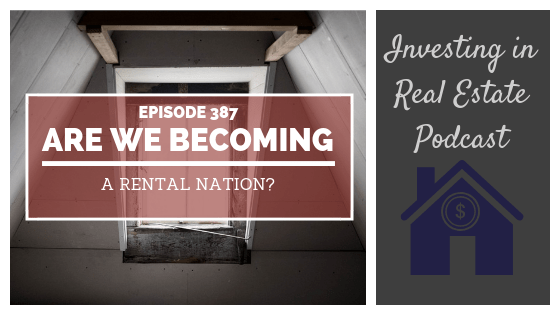 Book a call with our team: https://morrisinvest.com/book-a-call/
As the housing market continues to evolve across the US, it's clear that renting is becoming more commonplace. New data shows that homeownership is at a 50 year low. If you're listening the mainstream media, you might think this news is a bit scary.
But for real estate investors, high rates of renting is a good thing! On this episode of Investing in Real Estate, I'm sharing my take on America as a rental nation, and what it means for real estate investors. You'll learn about availability of property, economic collapse, and much more!
On this episode you'll learn:
How loan programs have changed over the past ten years.

Why Millennials aren't buying homes.

The truth about what's happening with rental rates.

What actually happens in real estate during an economic collapse.

What to expect in regard to refinancing rates.

And much more!
Episode Resources
3 Kinds of Tenants
Subscribe to Investing in Real Estate on Apple Podcasts
Find Your Financial Freedom Number
Subscribe to the Morris Invest YouTube channel
Like Morris Invest on Facebook
If you're ready to begin building a passive income through rental real estate, book a FREE call with our team today. We're ready to talk about your goals and want to help you learn more about earning legacy wealth for you and your family.
Ready To Build Passive Income Through Rental Real Estate?
Ready to talk about your goals? We're here to show you the tools and teach you the process to begin earning legacy wealth for you and your family.