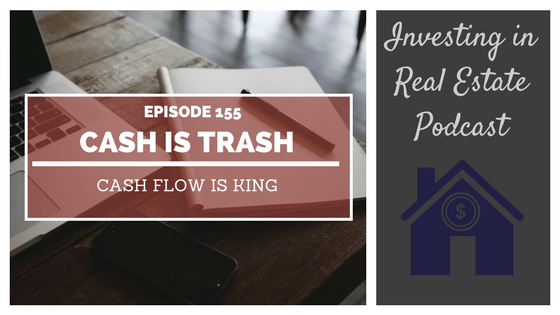 EP155: Cash Is Trash, Cash Flow Is King – Interview with Damion Lupo
Book a call with our team: https://go.oncehub.com/morrisinvest

This episode of Investing in Real Estate is brought to you by Harry's. Harry's offers high quality razors at half the price of drugstore brands. Harry's is so confident you'll love their blades, they're giving you a trial set for free—you just pay shipping! Visit Harrys.com/realestate to get your free trial set!
You've heard it here before: the key to building lasting wealth is cash flow. Here to share his perspective on this topic is Damion Lupo. Damion is an entrepreneur, a financial consultant, and a high-level real estate investor.
On today's show, Damion is sharing the highs and lows he's experienced throughout his storied real estate career. We're discussing the importance of cash flow, how to get your mind right, and so much more on episode 155 of Investing in Real Estate!
More About This Show
As a financial consultant, Damion encounters many individuals who are simply in the wrong mindset. He posits too many people think wealth means having cash. They've also bought into the idea that having a giant portfolio of stocks and bonds is the key to success.
But the truth is, Wall Street bankers are the ones that profit from that system. Not to mention, it creates a lot of fear because there is no control. The market will inevitably crash, because the system is cyclical.
Having cash set aside in a bank account isn't profitable either. If it's just sitting there, it's not producing anything. There's a better way: cash flow! Damion explains that cash flow via real estate is the true way to create wealth.
Damion is a long time investor, who actually purchased his first investment property with a credit card. On today's show, he's sharing more about his real estate experience, including his $20 million loss, and how he bounced back. We'll talk about the middle class mentality, the importance of having mentors, how to find a deal, and so much more! Damion has so much knowledge to share—you won't want to miss this episode!
If you're ready to begin building a passive income through rental real estate, book a FREE call with our team today. We're ready to talk about your goals and want to help you learn more about earning legacy wealth for you and your family.
On this episode you'll learn:
What is the only reason to save money?
Is it smart to use leverage to purchase rental properties?
How does Damion combat negativity?
What is Damion's advice for finding a real estate deal?
And much more!
Episode Resources
Harry's
Total Control Financial
Books by Damion Lupo
Morrisinvest.com/funding
Subscribe to Investing in Real Estate on iTunes
Find Your Financial Freedom Number
Subscribe to the Morris Invest YouTube channel
Like Morris Invest on Facebook
Contact Damion Lupo
Website
Facebook
Twitter
LinkedIn
Ready To Build Passive Income Through Rental Real Estate?
Ready to talk about your goals? We're here to show you the tools and teach you the process to begin earning legacy wealth for you and your family.