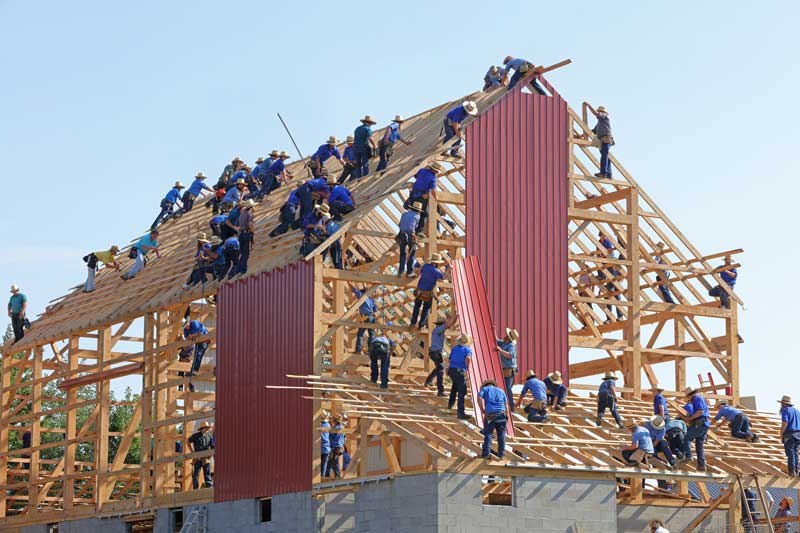 As a real estate agent, a knowledge of construction can be a very beneficial asset to you and your business especially when dealing with owners and investors for projects.
Having a team of consultants like general contractors or estimators can be a very valuable thing to have at your disposal. Clients often ask what construction costs are, and being able to determine costs, steps in construction, and being able to read plans, are all critical to the success of a deal.
This article will show both residential and commercial realtors important things to know about new construction and ways they can help their claim to secure the deals.
How to Quickly Estimate Rough Construction Costs for Clients
Estimating construction projects are a very important skill for a realtor to have. You don't need to be a construction expert nor a seasoned estimator to be able to figure out cost for new construction.  Often a General Contractor can quickly put together a construction takeoff for you.
Remodeling or renovations are going to be more difficult to determine costs, so we are going to focus on new construction.  The average cost per square foot of construction nationally for residential is $150 per square foot, and $175 per square foot in commercial. Using these numbers you can determine a rough cost to give to your client.
Many times realtors are an older or investors first point of contact and having a knowledge of construction costs can be very beneficial in helping you secure the deal.
Just a quick word of caution, it's important you use your consultants at your disposal to determine these costs because you can quickly either overprice or underprice a project and it wouldn't be a good thing for your client or your deal if the number is not accurate. Will cover consultants and an upcoming section.
Prices vary depending on where you are in the country so the quick way to modify the price for your area is to look at the average cost for a Carpenter. You can go on career websites like Indeed.com or Salary.com and get the average hourly rate for a Carpenter. Divide that number by $30, and you will get a simple multiplier.
So for example, $25/$30= 0.83.
Next divide $150 by 2 and it will give you $75. This is your average labor rate per square foot. Multiply $75 by your multiplier and you will get your average cost per square foot for labor. Add $75 to the number and you will get a very close approximation to the cost per square foot for new construction in your area.
Steps in the Development Process
Having a general knowledge of the development process is going to help you secure your deal.  Here some basic development principles to incorporate.
Create a Basic Drawing Set and Submit for Financing
The first step in any construction project is hiring an architect that can produce the drawings. If your client is going to be financing with the bank, the bank is going to require a basic set of drawings. They are also going to require a breakdown of the costs for the project.  As a Developer or Owner Builder, a construction cost estimating services company can be a valuable asset especially in the early stages.  As a realtor, you may be able to recommend using a service to prepare accurate budgets that the bank will accept.
Because the financing can make or break your deal, it is wise for a realtor to get involved with this step.  You can find great registered architects by searching Google and by making a few phone calls and setting up a few appointments to help your client.
Produce Final Construction Drawings and Obtain Permits
Once you submit the drawings and budget to your bank, if you are approved, the next stage will be for the architect to produce final construction drawings. These are going to be final drawings to submit to the local building department for approval. We put together a quick guide on how to read plans later on in this article which can help you in this stage. Typically building departments can take up to 30 days to approve plans. Once plans are approved, the next stage is to hire a general contractor to build the project.
Again, it's important you get involved if this is before you finalize your deal. If you already signed the contract and the property is sold, you may not need to get involved in this part, but if this part occurs before your deal is finalized, you should.
Once construction is underway, the realtor doesn't really have any more to do with the sale unless this is an investment property and your client will want to use you to sell the actual job once it is complete. In cases like that, you should stay in contact with your client on the progress of the project.
Realtors Should Have a Team of Architects, Contractors, and Subcontractors as Consultants
As I mentioned before, a realtor would be wise to have a team of consultants that can help them make the deal.
These will include architects, contractors, subcontractors, in addition to the brokers and lenders they already have at their disposal. These consultants will help them in things like determining rough construction costs, making a referral to a great general contractor to your client, having an architect you trust getting involved early in the project.
As a realtor, you can develop these relationships by first doing quick Google searches and just storing a simple Microsoft excel file as a database. Contractors have something called a bid list, realtors should have a consultant list.
Basics of Reading Plans
Reading construction plans can feel very difficult if you don't know what you're looking at, but the essence of these drawings are an instruction manual on how to build the project.
Realtors don't really need to know everything about construction or how to read plans, although it'll be beneficial if they know some basic principles.
Floor Plans
The floor plan is a view from the top looking down. This will show you the layout of the rooms, doors, windows.
Elevations
Elevations are drawings from the front or side. These are usually on the outside looking at a building or house.
Sections
Sections are very similar to elevations except that they are a section cut through the building where you are seeing it from the inside.
Details
Details pages are pages showing additional details that are probably not going to be relevant to the realtor.
If you understand these basic ideas and take a look at some plans with a little bit of common sense, you'll understand what these things mean. And if you don't understand something, you already have a list of consultants you can call.
Helping Your Client Finance the New Construction Project
If you want to increase your amount of sales, you need to find a way to help your client secure more financing. The first thing you can do is find a mortgage broker that specializes in new construction and renovation loans that can guide you through the process.
They will probably have specialized knowledge on the types of projects to get approved, credit information that banks look for, and custom things in regards to the actual house or space.  Being able to estimate and figure out basics in the construction of the project will help you in getting the project financed.
Finding Vacant Lots for Clients
Realtors have multiple ways to access property information which include software like the MLS for projects.
As an investor, you need to understand what the cost per square foot is in the area where you are potentially planning to buy the lot.
If you are realtor looking for vacant lots for your client, the first stage of the process is identifying the average size of the houses in the area. Local building codes and zoning will have different minimums and maximums in terms of square footage and overall building footprint.
You will have to analyze the average cost per sale versus the average cost per square foot in construction to determine if building a new construction project will be beneficial and profitable. This is called a feasibility study.
Using the Web to Attract Pre-Construction Buyers
One trick in real estate is to try to sell properties preconstruction. The deal is you by this project under contract now, and you get the reduced price which puts the property under market value.
This is a great strategy because many buyers are looking for the best deal, and if they are patient, they will be willing to wait a few months for a brand-new home or building at a reduced price. This will put equity in their new investment right away.
A wise realtor will invest in advertising on Google and Facebook to target the right audience.
Using demographics and geolocation, a realtor can set highly targeted ads on Facebook and Google to people that are likely to buy a new property.
For example, you can target newlyweds, new parents, and even people who recently got divorced. These are great candidates that will either be moving or buying a new property soon.
Conclusion
Using the strategies, a realtor can explode their business and get more sales because of their ability to help their client secure financing and budget prices for new construction.
I recommend every realtor use this article and the strategies within it and further read up on each technique. Each one in itself can be an entire article, so this article will serve as an introduction to great ways to implement construction strategies in real estate.
Daniel Quindemil is founder of I AM Builders, a leading Construction Estimating and Consulting Firm specializing in helping Developers budget and finance new projects, and helping Contractors win more projects.
Ready To Build Passive Income Through Rental Real Estate?
Ready to talk about your goals? We're here to show you the tools and teach you the process to begin earning legacy wealth for you and your family.