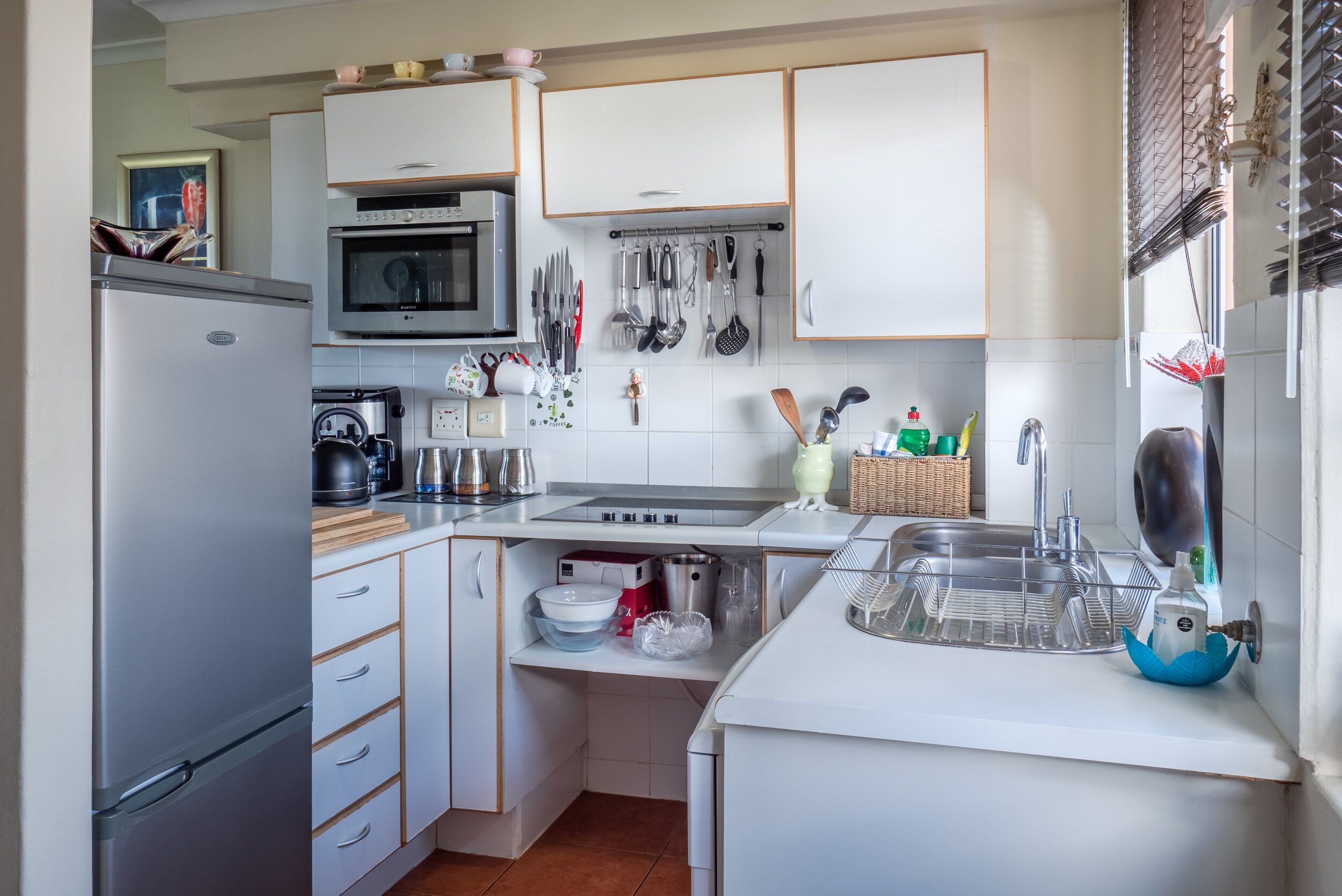 The kitchen is a high-impact room in any home. As a rental property owner, it's very beneficial to make this space both functional and beautiful if you want to attract renters and align with the current market value. You can tailor your home or apartment to your location, which can help attract the right renters who will love the space you create.
Are you in the heart of an urban area? Think about the people living an urban lifestyle desire in a kitchen, and let the room reflect that. Storage is usually limited in urban areas, so incorporating unique elements like bike racks and open-shelving is not only functional but makes for a personalized and useful space where renters feel right at home.
No matter your location, it's important to determine your goals and budget before you dive into renovating any room in a home—especially a kitchen. Today, there are many useful tips and tools to help you stay on track with your budget during a renovation, including the tips below:
Determine Renovation Goals
There are plenty of rental upgrades that make life easier (like these ones here) but it's important to set priorities for the room you plan on renovating so you don't lose money. You can't properly budget for a renovation project without knowing what you absolutely have to do first— so, create a must-do list.  
It might look something like this:
●     Decide to renovate the kitchen in your rental property
●     Choose to take on a full remodel or tackle some DIY upgrades
●     Research reputable contractors in the area
●     Choose a contractor to work with
●     Make an appointment with the contractor
●     Research kitchen design trends
●     Decide on a design style for your kitchen
●     Research costs of your dream kitchen
●     Be realistic and set a budget!
A must-do list creates boundaries and helps you hit your goals. If you stray off the path a little, it's okay— just make sure to refer back to your list so you stay on track during the renovation process and don't spend money you don't have.
Research Kitchen Renovation Costs
Reminder: you are on a budget. Keep this at the forefront of your mind at all times. Before you can stay on budget, you need to know what you can spend. To start, do you research and figure out an estimated cost for your kitchen remodel.
Homeowners spend between $12,630 and $35,128 (or $75 to $250 per square foot) on average when renovating their kitchen. Of course, the cost varies depending on layout, size of the room, custom upgrades, and more. There are ways to save on remodeling costs like:
●     Refinishing cabinets vs. replacing them
●     Opting for vinyl countertops over quartz or marble
●     Painting hardware instead of replacing with new
●     Mixing multiple countertop materials instead of using one material
Save Up and Budget
Actively saving for a renovation can be challenging. Sometimes, the end goal seems too unattainable to start now—but it's important to start saving now, so you can start spending down the line.
You know the average cost of kitchen renovation projects, and you've hopefully figured out the magic number you can spend, too. If you want to effectively spend money on renovating your kitchen, you need to create a budget (in addition to saving in advance).
Let's say the breakdown of your budget looks something like this:
●     Design fees: $500
●     Installation: $4,000
●     New appliances: $3,000
●     Countertops: $2,000
●     Flooring: $1,000
●     Faucets and plumbing: $500
●     Other: $300
Great! You made a budget. Keep these numbers in mind when working on your kitchen. Of course, with any project comes unexpected costs and minor (or major) mishaps, but don't worry–that's where your savings comes in!
DIY vs. Hiring a Pro
You can save both time and money by going the DIY route. On the flip side, the DIY route can also cost you both time and money. How so? Well, if you lack the appropriate skills to take on work by yourself, you might end up making a costly mistake.
However, if you are confident in your DIY skills, this is a great way to save money in your budget. Look into tips and steps to remodeling your kitchen so you get it right, and then figure out which areas you plan on handling yourself and which you are passing over to the pros.
Be sure to communicate this information with your contractor and designer if you are working with one, that way everyone is on the same page!
Future renters are going to appreciate all the love and thought you put into renovating one of the most popular rooms in a home, so it's worth the cost and time to renovate your kitchen.
Ready To Build Passive Income Through Rental Real Estate?
Ready to talk about your goals? We're here to show you the tools and teach you the process to begin earning legacy wealth for you and your family.