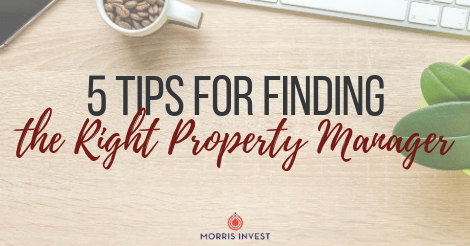 If you're new to the real estate investing game, finding the right property management team can seem overwhelming. After all, you're placing a lot of trust into a company to collect rent, communicate with your tenant, and make sure that everything runs smoothly at your rental property.
So how can you choose the right team for the job? In this post, we're sharing five tips to help you hire the right property management company!
Communication. In the digital age, there's no shortage of ways to send and receive messages. And when it comes to property management, communication is key! You want to work with a team that will not only respond to your requests in a timely matter, but you also want to ensure they are available to your tenant.

Background check process. Ask what types of screening process they take their tenants through. Typically you'll want them to conduct a criminal background check, a credit check, and take a look into their employment history. It's up to you what types of tenants you'd like to accept, but nonetheless it's important that your property manager at least looks into these different screening processes.

Reliability. Your property manager is going to be responsible for handling many tasks, so it's important that you can rely on them to follow through and take care of everything at your property. After all, we want our tenants to have a safe and comfortable place to live. You want your property manager to be able to take care of everything for both you and your tenant.

Digital portal. You should be able to login to some kind of software in order to see banking info, leases, maintenance, and more. The exception to this rule is smaller companies in small towns. Having an online portal isn't always a dealbreaker, but we do appreciate having this feature available.

Proactivity. I want to know that my property management company is thinking about the well-being of my portfolio and my tenant. For example, if we're expecting a tenant turnover, I expect my property management team to anticipate raising rents. I want them to be ready to go to help tenants in upcoming weather, and to be able to think ahead.
Don't be afraid to ask questions and speak with multiple companies before teaming up with a property manager. The goal is to establish a long-term relationship, so always do your due diligence. Once you've found the right property management team, your experience should be passive and efficient!
Ready To Build Passive Income Through Rental Real Estate?
Ready to talk about your goals? We're here to show you the tools and teach you the process to begin earning legacy wealth for you and your family.