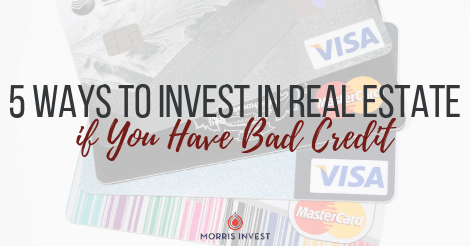 What holds you back from pursuing a career as a real estate investor? One of the most common questions we receive is, "Can I get started investing if I have a low credit score?" The answer is a resounding YES! If you believe that your credit score defines you, I'd like to encourage you to challenge that limiting belief. Your credit score is just a number, and it's just one small piece of your overall financial snapshot.
Chances are, whatever you believe is holding you back is simply that—a belief. The truth is, we all have our own unique hurdles and obstacles. In fact, when I got my start in real estate, I had tons of hurdles including bad credit, foreclosures, and frozen assets.
After you've challenged those beliefs about what your credit score really means, it's time to look into some options of how to invest despite your credit. In this post, we're sharing five creative ways to invest, regardless of your credit score. Before we get into it, here are two important notes: we are not financial advisors, and this is in no way an exhaustive list. If you're willing to be creative, the sky is the limit! Without further ado, let's dive into five ways you can invest, even with bad credit.
401k loan. Does your employer offer a 401k plan that you contribute to? If so, this can be an incredible way for you to begin investing. Not a lot of people know this, but you can actually take a loan (not a withdrawal) from your plan! There are a few limits with this strategy, but luckily your credit score is not one of them! If you'd like to know more about this strategy, here's a blog post for you!

Private money. You might be wondering, what exactly is private money? Private money refers to funding attained from anyone who is not a traditional bank. You could get access to private money through a friend or relative, another investor, or anyone else who is simply looking for a return on their investment. Because private money is not regulated by the banks, there are no rules! More often than not, a private money lender is going to care more about the deal itself than your personal finances. Want to learn more? Check out our Private Money Series!

Business credit. Yes, we heard you—your credit is bad! But if you want to improve your credit score in order to invest, then you need to know about this incredible option. Fund&Grow is a business that helps investors secure business credit. Fund&Grow also has a credit repair program that can help you fix your credit, start investing, and even pay off outstanding debt. You can save $500 off your sign-up fee with Fund&Grow by visiting our exclusive link: morrisinvest.com/funding.

Seller financing. Another great funding option is seller financing. When a seller finances a deal, they can set the terms of the deal. This can be a smart idea for buyers with bad credit, because there is little qualifying, and the seller will not usually take a hard look at your personal financial situation. For more on this unconventional way of buying, head over to the Investing in Real Estate Podcast.

Hard money. Hard money lenders operate similarly to the traditional banking model, but they are not regulated by the government. Because of this, they have looser standards and can set their own rules. Oftentimes, a hard money lender makes their decisions based on the merit of the deal—they are not usually overly concerned with your credit score. It's important to note that hard money lenders typically have elevated interest rates, but this can still be a fantastic way to get your career started.
Ready To Build Passive Income Through Rental Real Estate?
Ready to talk about your goals? We're here to show you the tools and teach you the process to begin earning legacy wealth for you and your family.