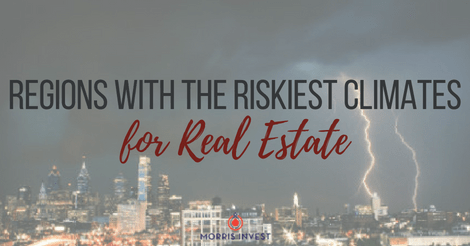 When you're figuring out where to make real estate investments, numerous factors likely cross your mind. They include the current state of the property market and its likely progression, crime levels and the cost of living. However, there's another crucial aspect not to overlook: climate.
You don't need to steer clear of areas with risky climates. However, it's important to know about weather-related trends so you can plan and protect your property.
Parts of North and South Dakota Are Extremely Cold
If you're eyeing a property investment in North or South Dakota, those two states are so cold, they often barely get above 0 degrees Fahrenheit during the chilliest months. The climate could put your investment property at risk for burst pipes and other problems caused by extreme cold, and the snow that often comes with it.
Statistics for burst pipe insurance claims indicate they could total an average of $18,000 per incident. However, prevention goes a long way. You can insulate pipes to reduce the likelihood of freezing and even ask tenants to leave cabinet doors under the sink ajar to promote the flow of warm air from the kitchen or bathroom to the pipes.
Beware of Ice Storms in Several Regions of the United States
Freezing rain can result in ice storms that make roads and sidewalks dangerous, temporarily halting travel. However, ice also weighs down power lines and tree branches, causing inconvenient electrical outages.
As an investor, be aware of the damage fallen trees could cause to your property. The Midwest and Northeast of the United States are the most likely regions to experience ice storms. However, they can also happen in the South.
If you invest in an area prone to ice storms in the winter, have a professional arborist check the property for trees at risk of falling or those too close to the home. It might be wise to have those cut down or trimmed before winter arrives in full force.
Prepare to Deal With Florida's High Humidity and Rainfall Totals
Florida is a state where many people go to take lengthy vacations or even live temporarily to escape the coldest periods of the year. So, the Sunshine State is also a popular place for property investments, especially considering all the theme parks, beaches and golf courses to keep people entertained.
Data indicates Florida is the most humid state in the country. More specifically, Key West and Orlando are among the Floridian places with the highest year-round humidity.
Plus, despite being a place known for its sunny weather, Florida still gets more than 50 inches of rain per year on average in many areas.
In Florida, or any other place with a humid, damp climate, you're at risk for mold growth. Although it's a common problem in basements and bathrooms, mold can also appear on roofs, especially if the roof lacks sufficient drainage. The issues could compromise structural integrity and cause health problems for the people living in the home.
Promptly fixing any roof issues, as well as ensuring gutters direct rainfall away from the roof, are two excellent preventive measures. If the tenants mention mold issues inside or out, have those complaints investigated quickly. Mold can spread rapidly, making it necessary to find the causes as speedily as possible.
The Southwestern United States Can Get Extraordinarily Hot
Although extreme heat waves affect many areas of the United States, the Southwest region includes some of the hottest states in the nation. And, that heat doesn't just make people and pets uncomfortable. It can wreak havoc on investment properties if you don't anticipate the high temperatures and take steps to minimize the adverse effects they cause.
The potential damage includes foundation issues, buckling wood floors and cracked shingles that lead to roof leaks. As with other kinds of weather conditions, a proactive attitude could help you avoid circumstances that may hinder your investment payoffs.
If you're concerned about excessive dryness around a home's foundation, a sprinkler system could keep the conditions consistently moist. Moreover, because humidity and heat both damage wood floors, think about running a dehumidifier during the summer or any unusually hot periods.
Concerning your roof, perform a self-inspection at least twice a year. Also, if you notice any damage or aspects that look odd, get a professional to take a closer look — regardless of the temperature outside.
Preparation Is Essential
The information above reveals some of the most at-risk areas of the United States for weather that could harm your investment property. As mentioned earlier, there's no need to avoid evaluating opportunities in those regions. Instead, recognize how adequate preparation helps you minimize stress and lost profits.
Holly Welles is the editor behind The Estate Update, where she shares real estate tips and ideas for home fixes. She's passionate about staying on top of recent market trends despite her impractical love for the oldest houses in town.
Ready To Build Passive Income Through Rental Real Estate?
Ready to talk about your goals? We're here to show you the tools and teach you the process to begin earning legacy wealth for you and your family.