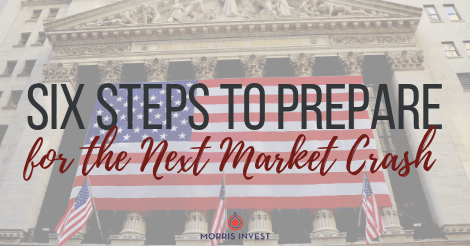 Basic economics will tell you that market crashes are inevitable and cyclical. And since we're about a decade out from the last crash, it's important that you as an investor prepare for a crash and protect your portfolio.
Smart investors know that an economic crash is not necessarily the end of the world, but rather a possibility to make smart money moves! However, it's necessary to plan beforehand if you want to get ahead! Here are six steps you can take to prepare for the next market crash:
Know your rental markets and rental rates! As a real estate investor, you should be working with a reputable property management company. There are many benefits to doing so, including that a good property manager is established in the market and is knowledgeable about changing rates.

Own properties free and clear. If you'll remember the 2008 crash, you'll know that many investors got into trouble because they were over leveraged. There's nothing wrong with having some debt service within your portfolio, but if you want to be protected, make sure you own many of your properties outright.

Make sure your cash flow is solid. This goes hand-in-hand with point number two. Don't get yourself in a position where all of your profits are going toward a loan. Also, make sure your properties aren't too costly—my rule is to never buy anything over $150,000. Ideally, a single-family rental property should be somewhere in the $60-80k range.

Have cash on hand. Savvy investors know that cash is king in a down market! If you have cash reserves during a crash, there will be foreclosures and short sales that are fantastic deals. If you have cash in the bank, this is a perfect opportunity for you to pounce on a great deal!

Invest in cities with a diversified job market. As I always say, don't invest in markets where there's a one-cart horse. A diverse labor force is key! Think hospitals, factories, schools, distribution centers, and more.

Get used to it! Market corrections and cycles are natural. If you need help grasping this concept, be sure to read John Schaub's book, Building Real Estate Wealth in a Changing Market.
Ready To Build Passive Income Through Rental Real Estate?
Ready to talk about your goals? We're here to show you the tools and teach you the process to begin earning legacy wealth for you and your family.