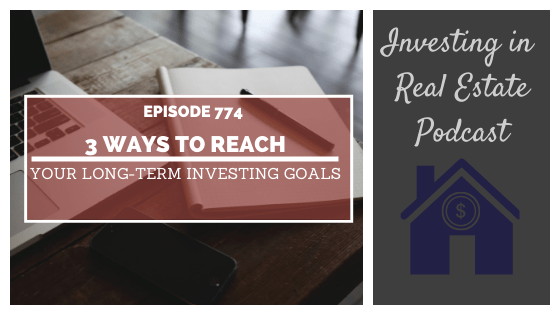 Recently, we talked about ways to set realistic goals.  But setting goals alone doesn't help you make progress. Anyone can set a goal, but actually making it happen is another thing. Think about how many people make New Years' resolutions, and then totally forget about it by spring or summer! 
Setting a goal is easy, but staying on track is not. You have to take action, stay motivated, and committed. So today I want to talk about three realistic strategies you can use to ensure that your long-term goals become reality.
More About This Show
Set a specific and personalized goal with the Freedom Cheat Sheet. Next, write it down and keep it front of mind. Once you've determined your Freedom Number, I don't want you to shut it in a drawer and forget about it. We have a client that got balloons with their freedom number to remember it daily. Other clients have slapped it up on their fridge as a daily reminder.
Here's the thing, you aren't getting into this process to just purchase one property and walk away. There is a grand plan, the big picture to think about. This isn't a sprint, more of a marathon, and one in which will not only benefit you long term but also your family. Financial freedom doesn't happen overnight, if you listen to my webinar you will hear me say that real estate investing isn't a get rich quick game. You need to commit to your goals and own your responsibility in the planning and implementing of those goals.
Create and regularly update your balance sheet to stay on track.
Set quarterly reminders. Our finances can change very quickly, sometimes day to day. You could change jobs, get your kid braces, inherit some money, go on a grand vacation – the point is you need to check yourself. Don't just create your balance sheet and think "well I did that, ok I'm good." No, check in on your finances on a regular basis and rework that sheet to represent the current and accurate picture. Financial intelligence and wealth planning involves taking an honest look at how you spend and plan to spend.
Find support and accountability.
Work with our team, join our community at FFA, or find local like-minded investors. Best yet, when you work with our team you will be guided through a 5 to 10 year plan. This individualized action plan will help you gain an understanding of your personal financial situation and how you can potentially reach your goals. It will help you to stay accountable for your progress forward and offer check ins along the way with our team.
Episode Resources
Book a Call with Our Team
Superbeets.com/investing ← Get 30% off your first order!
5 Tips for Setting Realistic Goals
Atomic Habits by James Clear 
Full Focus Planner by Michael Hyatt 
morrisinvest.com/webinar ← Sign up for my webinar!
morrisinvest.com/bootcamp ← Download your FREE 90-Day Bootcamp!
Subscribe to Investing in Real Estate on iTunes
Find Your Financial Freedom Number
Subscribe to the Morris Invest YouTube channel
Like Morris Invest on Facebook
DISCLAIMER: I am not a financial adviser. I only express my opinion based on my experience. Your experience may be different. These videos are for educational and inspirational purposes only. Investing of any kind involves risk. While it is possible to minimize risk, your investments are solely your responsibility. It is imperative that you conduct your own research. There is no guarantee of gains or losses on investments.
AFFILIATE DISCLOSURE: Some of the links on this channel are affiliate links, meaning, at NO additional cost to you, I may earn a commission if you click through and make a purchase and/or subscribe. However, this does not impact my opinion. We recommend them because they are helpful and useful, not because of the small commissions we make if you decide to​ use their services. Please do not spend any money on these products unless you feel you need them or that they will help you achieve your goals.
Ready To Build Passive Income Through Rental Real Estate?
Ready to talk about your goals? We're here to show you the tools and teach you the process to begin earning legacy wealth for you and your family.