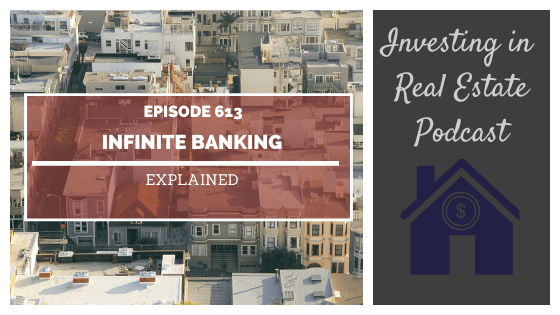 One of the most controversial topics we've ever covered here on the podcast is the Infinite Banking Concept. Many people are skeptical of any lending platform tied to an insurance policy, while others have heard horror stories. One thing is for sure, there is a lot of confusion about Infinite Banking and how it really works. So we decided to ask genius CPA Tom Wheelwright to refer us to his go-to source on all things Infinite Banking—Patrick Donohoe.
Patrick Donohoe is an expert in Infinite Banking, the founder and CEO of Paradigm Life, and the author of Heads I Win, Tails You Lose. On this episode of Investing in Real Estate, Patrick is debunking some of the most common myths about the Infinite Banking Concept. We hope this episode will empower you to educate yourself about this investing option!
On this episode you'll learn: 
The two components of the policy.
Why there's a stigma around Infinite Banking.
How to get a free copy of Heads I Win, Tails You Lose.
The Two Components of the Policy
The Infinite Banking Concept has two distinct components. First, it consists of the whole life insurance policy which produces dividends for the individual. Secondly, the account owner is given access to a guaranteed line of credit. This means you can borrow any amount of money you have in cash value. This can be a great way to invest in real estate or buy a business. The loan seems to be the part that confuses people. Generally speaking, it has a low interest rate of 4-5%, is not reflected on your credit report, and can be a great way to capitalize on opportunities.
Why There's a Stigma Around Infinite Banking
Patrick explains that a lot of the stigma around Infinite Banking is simply due to human nature. We are naturally skeptical, and when we hear of something outside of the box, it's natural to have questions and confusion. The best way to fight stigma is to become educated, so we implore you to do your due diligence and decide if this strategy is right for you and your family.
How to Get a Free Copy of Heads I Win, Tails You Lose
If you'd like to educate yourself further about the Infinite Banking Concept, you can download a free copy of Patrick's book here. In the book, he covers the different components of the life insurance plan, and takes you behind the scenes of how insurance companies and wealth strategists get paid. This book is a great resource for anyone who has questions about this investing method!
Episode Resources
Rhone.com/investing – Use promo code investing for 20% off
Download Your Free Copy of Heads I Win, Tails You Lose by Patrick Donohoe
Becoming Your Own Banker by Nelson Nash
What Would the Rockefellers Do? by Garrett B. Gunderson
Book a Call with Our Team
Subscribe to Investing in Real Estate on Apple Podcasts
Find Your Financial Freedom Number
Subscribe to the Morris Invest YouTube channel
Like Morris Invest on Facebook
Connect with Patrick Donohoe
Podcast
Website
DISCLAIMER: I am not a financial adviser. I only express my opinion based on my experience. Your experience may be different. These videos are for educational and inspirational purposes only. Investing of any kind involves risk. While it is possible to minimize risk, your investments are solely your responsibility. It is imperative that you conduct your own research. There is no guarantee of gains or losses on investments.
AFFILIATE DISCLOSURE: Some of the links on this channel are affiliate links, meaning, at NO additional cost to you, I may earn a commission if you click through and make a purchase and/or subscribe. However, this does not impact my opinion. We recommend them because they are helpful and useful, not because of the small commissions we make if you decide to​ use their services. Please do not spend any money on these products unless you feel you need them or that they will help you achieve your goals.
Ready To Build Passive Income Through Rental Real Estate?
Ready to talk about your goals? We're here to show you the tools and teach you the process to begin earning legacy wealth for you and your family.