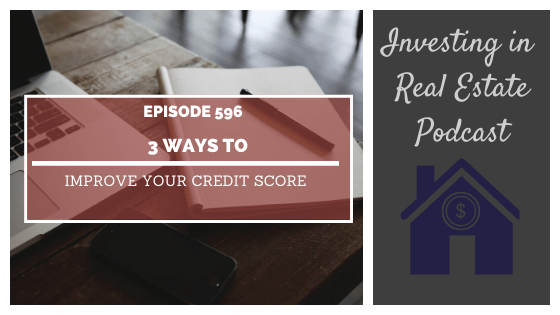 Book a call with our team: https://go.oncehub.com/morrisinvest
This episode is sponsored by SimpliSafe! With home security, there's two ways you can go about protecting your home. There's the "traditional way" where you wait weeks for a technician to do a messy installation that costs a small fortune. Or there's the other way. SimpliSafe. SimpliSafe is everything you need in a home security system. It's award-winning protection. Two-time winner of CNET Editors' Choice Award. Go to simplisafe.com/investing today and you'll get FREE shipping and a 60-day risk free trial.
Want to get started in real estate, but feel held back by a low credit score? You're not alone in this, and the good news is you have options for improving your credit score. On today's show, Wayne the Credit Guy is back to run down three ways to improve your credit score!
On this episode of Investing in Real Estate, Wayne Sanford is sharing recent changes to the credit scoring system, how to intelligently get out of debt, and more. You'll learn about repairing credits, the importance of knowing your options, and the future of consumer debt in the US!
On this episode you'll learn:
How laws around credit have changed since Wayne was last on the show.
The truth about credit repair companies.
Whether the debt snowball or debt avalanche is more effective.
Three strategies for improving your credit score.
If you should cancel your credit cards after you pay them off.
Wayne's predictions for the future of consumer debt.
1. Look at Your Statements
Too many consumers are afraid to take a good, hard look at their debt. The first step in improving your credit score is knowing where you stand. Get an assessment of all of your balances and interest rates, and actually write your debts down.
2. If You Don't Know Where to Start, Start Small
Most consumers have a debt that is a low hanging fruit. Go after your smallest balance first to gain momentum and make progress on your debt payoff strategy.
3. Know Your Options
All consumers have options when it comes to credit and debt. But if you don't know your options, you can't make the best choices. Have a clear picture of the laws and what your rights are as a consumer.
Episode Resources
Subscribe to Investing in Real Estate on Apple Podcasts
Find Your Financial Freedom Number
Subscribe to the Morris Invest YouTube channel
Like Morris Invest on Facebook
Connect with Wayne Sanford
Email
Website
Ready To Build Passive Income Through Rental Real Estate?
Ready to talk about your goals? We're here to show you the tools and teach you the process to begin earning legacy wealth for you and your family.