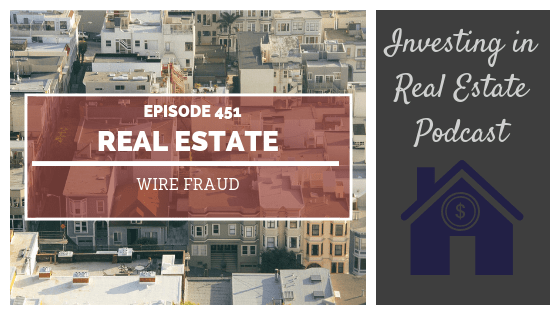 Book a call with our team: https://go.oncehub.com/morrisinvest
This episode of Investing in Real Estate is sponsored by Paint Your Life! With Paint Your Life, you can get a portrait, hand-painted from any photo, at an affordable price! If you want to give a truly meaningful gift, you've got to try paintyourlife.com. And right now as a limited time offer, get 30% off your painting plus free shipping by texting INVESTING to 79-79-79.
One integral piece of the closing process is a wire transfer. Unfortunately, in the real estate sector, wire fraud is becoming more and more prevalent.
On today's show, we're walking you through specific steps you can take to protect yourself from wire fraud. You'll learn about protecting your passwords, the importance of verifying email requests, and more. If you want to protect your investment transactions from hackers, this episode is for you!
On this episode you'll learn:
How much wire fraud increased in 2018.

Why you should be suspicious of emails.

How wire fraud occurs.

How to protect your passwords.

The importance of verifying wiring instructions.

And more!
Episode Resources
Paint Your Life
1Password
Find Your Financial Freedom Number
Subscribe to the Morris Invest YouTube channel
Like Morris Invest on Facebook
If you're ready to begin building a passive income through rental real estate, book a FREE call with our team today. We're ready to talk about your goals and want to help you learn more about earning legacy wealth for you and your family.
Ready To Build Passive Income Through Rental Real Estate?
Ready to talk about your goals? We're here to show you the tools and teach you the process to begin earning legacy wealth for you and your family.