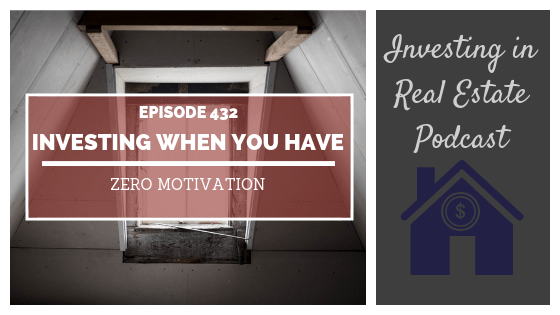 Book a call with our team: https://morrisinvest.com/book-a-call/
This episode is also sponsored by NetSuite by Oracle, the business management software that handles every aspect of your business in an easy to use cloud platform. Right now, NetSuite is offering you valuable insights to overcome the obstacles that are holding you back – for FREE. Download the free guide, Crushing the Five Barriers to Growth at netsuite.com/clayton.
Do you love the idea of getting started in real estate investing, but simply lack the motivation? It's easy to come up with excuses, but if you're serious about creating financial freedom, you'll have to leave procrastination behind and get motivated.
On this episode of Investing in Real Estate, I'm sharing simple five-step action plan you can use to channel your motivation and reach your goals! You'll learn about banishing distractions, getting clear about your goals, and much more. Come along for episode 432!
On this episode you'll learn:
Why getting away from distractions and clutter can help you reach your goals.

The importance of identifying your why.

One way to identify a clear goal.

Tools you can use for task management.

Why taking just one step is so powerful.

And more!
Episode Resources
NetSuite
Things
Omnifocus
Just Getting Started Playlist
Find Your Financial Freedom Number
Subscribe to the Morris Invest YouTube channel
Like Morris Invest on Facebook
If you're ready to begin building a passive income through rental real estate, book a FREE call with our team today. We're ready to talk about your goals and want to help you learn more about earning legacy wealth for you and your family.
Ready To Build Passive Income Through Rental Real Estate?
Ready to talk about your goals? We're here to show you the tools and teach you the process to begin earning legacy wealth for you and your family.