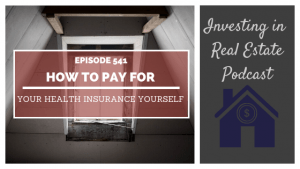 Book a call with our team: https://go.oncehub.com/morrisinvest/?utm_source=MIblog&utm_medium=MIBlog&utm_campaign=MIblog&Source=MIblog
This episode of Investing in Real Estate is sponsored by Rhone! Rhone is a men's performance lifestyle and premium activewear brand that is engineered for unparalleled quality and comfort. They are an absolute necessity for guys on the go. It doesn't matter if you're training in the gym or jumping on international flights, they are your new go-to men's clothing brand. Go to rhone.com/investing today and use promo code INVESTING to get 20% off your first purchase.
When you quit your day job and live off of your real estate business, you'll have to pay out of pocket for health insurance. For many Americans, shifting away from an employee-sponsored health plan is a scary idea, but it doesn't have to be!
On this episode of Investing in Real Estate, you're going to learn how to make more informed decisions about healthcare plans. We're covering deductibles, premiums, out-of-pocket expenses, and more. If you've ever wondered how to pay for your health insurance yourself, this one is for you!
Ready To Build Passive Income Through Rental Real Estate?
Ready to talk about your goals? We're here to show you the tools and teach you the process to begin earning legacy wealth for you and your family.