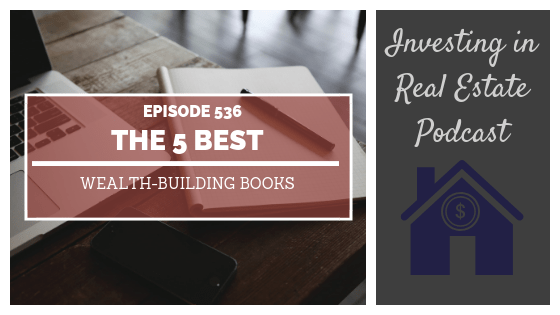 Book a call with our team: https://go.oncehub.com/morrisinvest
This episode of Investing in Real Estate is sponsored by SimpliSafe! SimpliSafe protects your whole home – every window, room and door – with 24/7 monitoring for just a fraction of the cost. There's no contract, hidden fees or fine print. For free shipping and a 60-day risk-free trial, visit simplisafe.com/investing.
At Morris Invest, we are passionate about continued learning. We believe that there is not one set-in-stone path to financial freedom, but that you must instead forge your own way. The best way to do so is to inform yourself about the different opportunities and strategies that exist.
On this episode, we're covering five of the best books for wealth-building. Topics range from taxes to mindset, and more! If you're looking to learn more about building wealth, you'll want to hear this book roundup!
On this episode you'll learn:
What you need to know about the tax code in order to build wealth.

How mindset is tied to wealth-building.

What it means to build wealth consciousness.

How paying down a liability can help you create financial freedom.

What you need to know about your mortgage.

The importance of liability protection.

How the Profit First System works.

And more!
Episode Resources
SimpliSafe
Tax-Free Wealth by Tom Wheelwright
A Happy Pocket Full of Money by David Cameron Gikandi
How to Pay Off Your Mortgage in 5-7 Years by Clayton & Natali Morris
Loopholes of Real Estate by Garrett Sutton
Profit First by Mike Michalowicz
How to Set Up Profit First with Mike Michalowicz
Find Your Financial Freedom Number
Subscribe to the Morris Invest YouTube channel
Like Morris Invest on Facebook
If you're ready to begin building a passive income through rental real estate, book a FREE call with our team today. We're ready to talk about your goals and want to help you learn more about earning legacy wealth for you and your family.
Ready To Build Passive Income Through Rental Real Estate?
Ready to talk about your goals? We're here to show you the tools and teach you the process to begin earning legacy wealth for you and your family.