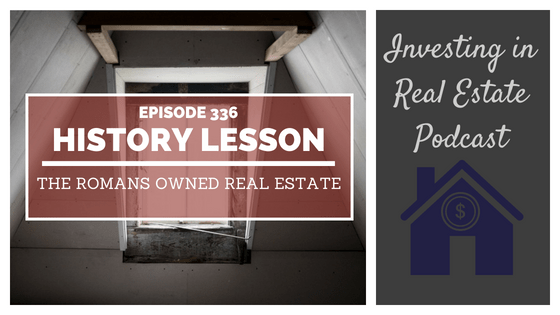 EP336: History Lesson: The Romans Owned Real Estate
Book a call with our team: https://go.oncehub.com/morrisinvest
Today's episode of Investing in Real Estate is sponsored by Purple. Purple is a leading comfort tech company that uses cutting-edge science to create the world's most comfortable sleep and sit products. Right now, our listeners will get a FREE sheet set and mattress cover with any mattress purchase. Get yours at Purple.com/INVESTING. 
Without a doubt, real estate investing is the best way to build wealth in this day and age. But did you know that rental real estate actually dates back to Ancient Rome?
On today's show, I'm sharing some historical facts about building dynasties and wealth building in Ancient Rome. You'll learn about the different types of currencies, the value of owning cash flowing assets, and how to build true, lasting wealth. Don't miss episode 336 of Investing in Real Estate!
More About This Show
Recently, Natali and I read SPQR: A History of Ancient Rome by Mary Beard. The book is an interesting overview of what life was really like in Ancient Rome. She highlights everything from assassinations to peasant living to board games. If you're a history buff like I am, you'll find a ton of value in this book.
But if you're a real estate investor, it's even better! Beard explains that Romans understood the value of owning real estate and creating cash flow. In Ancient Rome, this who were smart with their money were landlords–they brought in passive income on a regular basis.
In fact, Cicero, counsel of the Roman Republic is quoted as saying, "The cash that comes from selling your labor is vulgar and unacceptable for a gentleman. For wages are effectively the bonds of slavery." In Ancient Rome, waged labor was dishonorable; those who created true wealth did so through their estates.
On today's show, I'm sharing more details from SPQR. I'll discuss how the concept of building wealth has remained constant for thousands of years, how certain Romans ended up in debt, and so much more!
On this episode you'll learn:
What is FIAT money?
What qualifies as God's money?
What is the best way to build a dynasty?
And so much more!
Episode Resources
Purple
SPQR: A History of Ancient Rome by Mary Beard
The Ultimate Guide to Passive Income
Private Money Series
Subscribe to Investing in Real Estate on iTunes
Find Your Financial Freedom Number
Subscribe to the Morris Invest YouTube channel
Like Morris Invest on Facebook
Ready To Build Passive Income Through Rental Real Estate?
Ready to talk about your goals? We're here to show you the tools and teach you the process to begin earning legacy wealth for you and your family.