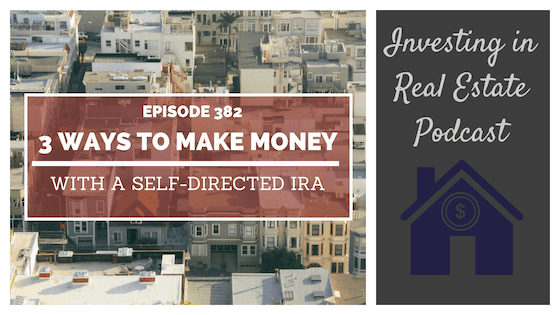 Book a call with our team: https://go.oncehub.com/morrisinvest
This episode of Investing in Real Estate is sponsored by Robinhood! Robinhood is an investing app that lets you buy and sell stocks, ETFS, options, and cryptos—all commission-free. Robinhood is giving our listeners a FREE stock like Apple, Ford, or Sprint to help build your portfolio! Sign up at http://investing.robinhood.com.
Investing in a self-directed IRA is an incredible, multi-faceted wealth building strategy. On today's show, Natali and I are sharing three different ways you can make money via investing in your retirement account.
You'll learn about the tax benefits of investing in a self-directed IRA, and how to track your retirement accounts' growth. If you want to learn more about making money inside your self-directed IRA, this episode of Investing in Real Estate is for you!
On this episode you'll learn:
How taxes work inside a self-directed IRA.

What happens if you sell a property inside your retirement account.

The amount of growth to expect in a self-directed IRA.

The power of earning passive income in your retirement account.

How investing in your IRA differs from the stock market.

How to track the growth inside your accounts

And much more!
Episode Resources
Robinhood
How to Calculate ROI on a Real Estate Investment
Free Download: IRA Growth Tracker
Subscribe to Investing in Real Estate on Apple Podcasts
Find Your Financial Freedom Number
Subscribe to the Morris Invest YouTube channel
Like Morris Invest on Facebook
If you're ready to begin building a passive income through rental real estate, book a FREE call with our team today. We're ready to talk about your goals and want to help you learn more about earning legacy wealth for you and your family.