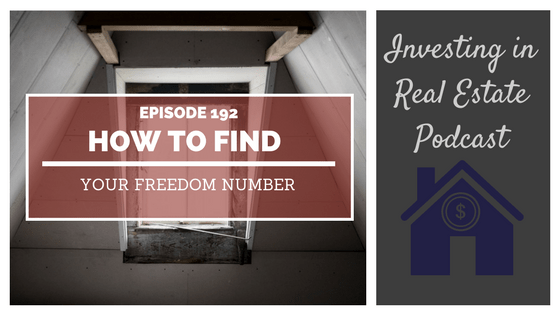 EP192: How to Find Your Freedom Number (encore episode)
Book a call with our team: https://go.oncehub.com/morrisinvest/?utm_source=MIblog&utm_medium=MIBlog&utm_campaign=MIblog&Source=MIblog
This episode of Investing in Real Estate is brought to you by Bonwi. Bonwi.com gets you the best hotel rates and up to 30% back in rewards! Learn more by visiting bonwi.com.
Are you looking to achieve financial freedom and create true legacy wealth for your family? I've found that the only true way to create passive income is through real estate investing. And the only way to embark on this journey is to discover your Freedom Number. Once you understand this number, you'll be able to effectively plan your way to financial freedom.
In today's episode, I'm going to walk you through the exact formula I used to change my life. If you're ready to begin your journey to financial freedom, join me on episode 192 of the Investing in Real Estate Podcast!
More About This Show
The Financial Freedom cheat sheet was born out of my own frustration. I was in a financial struggle. My situation was not dire; my bills were paid, but at the end of the month, I wasn't saving anything.
Does this sound like you? Many of us blindly follow the ideal that society tells us: work hard every day, commute for two hours, and set aside some funds in a 401k, and your retirement will be paid for.
This simply isn't true. The average 401k holds $70,000 at retirement age. Can you live off of $70,000 for the rest of your life? Of course not.
If you want to reach your financial goals, you'll need to take a closer look at your expenses, and calculate the exact amount that you'll need to feel secure at the end of the month.
Many people wish to be millionaires, but simply put—we don't need a million dollars. One million is an arbitrary number.
You don't need to be a millionaire to be financially free. Achieving financial freedom means having all of your expenses covered, even if you were to suddenly lose your job.
Let's get specific. By uncovering your Freedom Number, you'll have an exact number of the number of real estate properties you'll need to obtain to have your expenses covered. I think you'll be surprised at how few properties it will take for you to reach financial freedom.
On today's show, I'll walk you through step-by-step plan that changed my life. This method has helped thousands of people create real passive income, and I know it can change your life too.
If you're ready to begin building a passive income through rental real estate, book a FREE call with our team today. We're ready to talk about your goals and want to help you learn more about earning legacy wealth for you and your family.
On this episode you'll learn:
The exact step-by-step process you can use to start building passive income.
Why contributing to a 401k isn't the best way to save for retirement.
How to use your Freedom Number as a moving target.
The importance of having a clear plan when it comes to financial freedom.
And much more!
Episode Resources
Bonwi
Subscribe to Investing in Real Estate on iTunes
Find Your Financial Freedom Number
Subscribe to the Morris Invest YouTube channel
Like Morris Invest on Facebook
Ready To Build Passive Income Through Rental Real Estate?
Ready to talk about your goals? We're here to show you the tools and teach you the process to begin earning legacy wealth for you and your family.