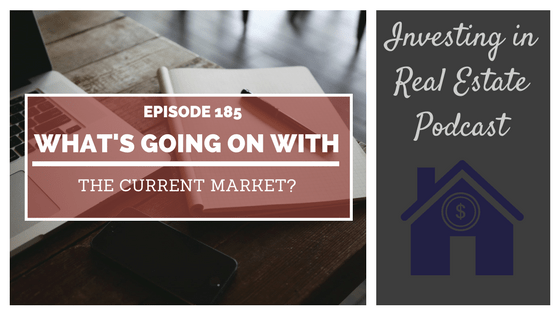 EP185: What's Going on with the Current Market? – Interview with Brian Kline
Book a call with our team: https://go.oncehub.com/morrisinvest
This episode of Investing in Real Estate is brought to you by ZipRecruiter. With ZipRecruiter, you can post your job to 100+ job sites with just one click. Visit ZipRecruiter.com/investing to post your jobs for free!
The real estate market is always changing, and savvy investors always stay up to date on market conditions. On today's show, I'm sitting down with longtime real estate investor and writer, Brian Kline!
Brian has been in the real estate investing game since before the housing crisis, and on today's show he's sharing his perspective on the current market. Brian is also sharing his biggest takeaway from the 2008 crash, how today's market is different from a decade ago, and how you can stay informed about market trends. Brian has so much insight to offer; you won't want to miss this episode of Investing in Real Estate!
More About This Show
Brian Kline explains that one of the biggest takeaways he gleaned from the 2008 market crash is that real estate is a cyclical business. Just before the crash, many investors and homebuyers believed that there was no cap. But as we saw in 2008, real estate bubbles eventually burst.
Although the market today looks similar to the market a decade ago, Brian describes that there are some major differences. He posits that the market today is tighter; it is much more difficult to qualify for a mortgage.
No longer can investors go to the bank and quickly wrack up mortgages. He explains that for investors, creative financing is more important than ever before. Additionally, there is a vast amount of private financing available at this time.
Brian is constantly watching the current trends of the real estate business, and he regularly shares his contributions on Realty Biz News. On today's show, Brian is sharing his insight into the future of the real estate market. We'll talk about Millennials, Dodd Frank, and creative financing. Brian is also sharing his advice for first time investors, and how to choose a rental market. Don't miss episode 185 of Investing in Real Estate!
If you're ready to begin building a passive income through rental real estate, book a FREE call with our team today. We're ready to talk about your goals and want to help you learn more about earning legacy wealth for you and your family.
On this episode you'll learn:
What does Brian consider as the best niche for new investors?
What is the current average vacancy rate?
What are Millennials looking for in homes?
What is Brian's prediction for changes in Dodd Frank?
What is a mortgage solution formula?
And much more!
Episode Resources
ZipRecruiter
How to Pay Little or No Taxes on Your Real Estate Investments by Brian Kline
How to Read and Understand Financial Statements When You Don't Know What You Are Looking At by Brian Kline
Realty Biz News articles by Brian Kline
Subscribe to Investing in Real Estate on iTunes
Find Your Financial Freedom Number
Subscribe to the Morris Invest YouTube channel
Like Morris Invest on Facebook
Contact Brian Kline
Email
Twitter
LinkedIn