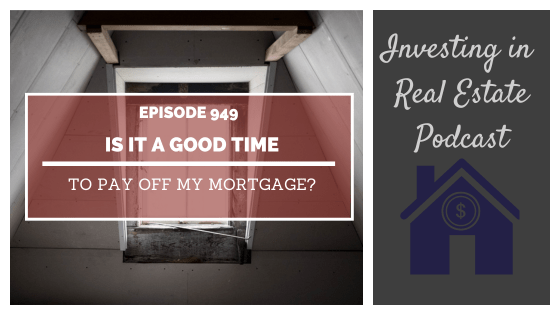 When I wrote my book How to Pay Off Your Mortgage in 5 Years, mortgage rates were at a historical low. Since rates have risen in the past year or two, does it still make sense to use a HELOC to pay off the mortgage on your primary home? That's the first question I'm answering on today's show!
This Q&A episode features three listener questions on paying off your mortgage, returns on our done-for-you rental properties, and how to find a lender willing to lend on investment properties. Click play to hear my answers to your real estate investing questions!
On this episode you'll learn: 
How to decide if it's worth it to pay off your mortgage.
What types of returns you can expect on a Morris Invest property.
How to find a lender that is willing to work with investors.
And much more!
How to Decide If It's Worth It to Pay Off Your Mortgage
Even though interest rates have risen in the past couple years, it can still be worth it to pay off your mortgage using the HELOC method. As we wrote in How to Pay Off Your Mortgage in 5 Years, the two main enemies when paying off your mortgage are time and interest. Because your mortgage's interest is amortized and a HELOC has simple interest, you can quickly knock years off your mortgage using this strategy. However, don't just take my word for it! Use the calculator in our book to determine exactly how much time and money you could save — then determine if it's worth it to you.
What Types of Returns You Can Expect on a Morris Invest Property
We like to use a returns calculation called IRR, or Internal Rate of Return. Using this calculation, you can expect to receive an IRR at a minimum of 18%. However, I highly suggest scheduling a free call to determine exactly what investing would look like for you. Our approach is customized, and we'd love to learn more about your situation and help you find an investment that fits your specific, personalized goals.
How to Find a Lender That Is Willing to Work with Investors
Unfortunately, it can be difficult to find a lender to help finance rental properties, especially in this economy. But I'd like to encourage you to keep trying. If you've called five lenders, call ten. If you've received twenty no's, keep going until you get a yes! There are plenty of great lenders out there who are willing to work with investors. You may want to start with LendingTree or reach out to Dan Kraus at Churchill Mortgage.
Episode Resources
Book a Call with Our Team
How to Pay Off Your Mortgage in 5 Years
Dan Kraus at Churchill Mortgage
LendingTree
You Can't Hurt Me by David Goggins 
morrisinvest.com/Clayton
Download the Freedom Cheat Sheet
Download the free Financial Empowerment Bootcamp
Subscribe to Investing in Real Estate on iTunes
Find Your Financial Freedom Number
Subscribe to the Morris Invest YouTube channel
Like Morris Invest on Facebook
DISCLAIMER: I am not a financial adviser. I only express my opinion based on my experience. Your experience may be different. These videos are for educational and inspirational purposes only. Investing of any kind involves risk. While it is possible to minimize risk, your investments are solely your responsibility. It is imperative that you conduct your own research. There is no guarantee of gains or losses on investments.
AFFILIATE DISCLOSURE: Some of the links on this channel are affiliate links, meaning, at NO additional cost to you, I may earn a commission if you click through and make a purchase and/or subscribe. However, this does not impact my opinion. We recommend them because they are helpful and useful, not because of the small commissions we make if you decide to​ use their services. Please do not spend any money on these products unless you feel you need them or that they will help you achieve your goals.
Ready To Build Passive Income Through Rental Real Estate?
Ready to talk about your goals? We're here to show you the tools and teach you the process to begin earning legacy wealth for you and your family.