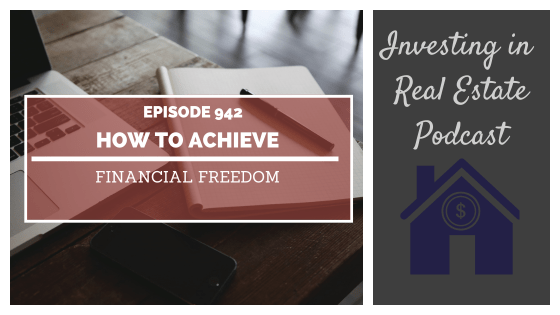 What would it take for you to achieve financial freedom? On this episode, I'm going to walk you through how to run the numbers, step-by-step, from my Freedom Cheat Sheet.
Financial freedom is one of the core tenets of my real estate strategy, and today I want to unpack exactly what that means. Financial freedom can have many different definitions for different people, so let's talk about what it is and how you can achieve it. Get ready to take some notes and let's define what financial freedom means for you.
More About This Show
I don't believe that financial freedom looks the same for everyone. We all have different goals, expenses, and levels of comfortability. That's why I created the Freedom Cheat Sheet – so you can determine what financial freedom means for you and your family.
In my free PDF, the Freedom Cheat Sheet, you'll learn how to unlock your personal Freedom Number. All you have to do is plug in a few of your financial numbers, and you'll determine how much income you would need every month to reach your definition of financial freedom. From there, you'll determine how many rental properties you need to be financially free. The Freedom Cheat Sheet is a great tool because it gives you a clear goal based on YOUR numbers and YOUR situation. Whether you're wanting to achieve a certain lifestyle, plan for a comfortable retirement, or trying to build generational wealth for your family, you can set that goal with the Freedom Cheat Sheet.
Once you have an understanding of what financial freedom means for you, then you have to create an action plan to actually reach that goal.
And again, there's not one clear cut path. You'll have to create a plan that's based on your unique circumstances. It's important to set a goal… but it's equally as important to have a plan to help you get there.
At Morris Invest, we use something called an Individualized Action Plan. Again, this is so powerful because it's customized – it's for you. No two clients are going to have the same action plan, because we don't believe in a cookie cutter approach to investing or wealth building.
After you chat with your assigned portfolio manager, they'll send you your Individualized Action Plan. This could mean entering one of our specific programs (like buying with a self-directed IRA, doing a 1031 exchange, cost segregation, etc.)
Or your plan might not involve buying real estate at all… or at least not yet. Perhaps you need to save up some money, or maybe you could benefit from doing our free bootcamp.
What I want you to take away today is that financial freedom is totally individualized. It's up to you. You get to decide and define it for yourself. Your financial freedom is going to look different from mine, or anyone else's. That's empowering, because you're in the driver's seat. Your destination is up to you.
To start today, download the Freedom Cheat Sheet at morrisinvest.com/freedom
Episode Resources
Book a Call with Our Team
morrisinvest.com/freedom
How to Pay Zero in Taxes with a Cost Segregation 
Using a 1031 Exchange to Build Wealth 
|morrisinvest.com/bootcamp ← Download your FREE 90-Day Bootcamp!
Subscribe to Investing in Real Estate on iTunes
Find Your Financial Freedom Number
Subscribe to the Morris Invest YouTube channel
Like Morris Invest on Facebook
DISCLAIMER: I am not a financial adviser. I only express my opinion based on my experience. Your experience may be different. These videos are for educational and inspirational purposes only. Investing of any kind involves risk. While it is possible to minimize risk, your investments are solely your responsibility. It is imperative that you conduct your own research. There is no guarantee of gains or losses on investments.
AFFILIATE DISCLOSURE: Some of the links on this channel are affiliate links, meaning, at NO additional cost to you, I may earn a commission if you click through and make a purchase and/or subscribe. However, this does not impact my opinion. We recommend them because they are helpful and useful, not because of the small commissions we make if you decide to​ use their services. Please do not spend any money on these products unless you feel you need them or that they will help you achieve your goals.
Ready To Build Passive Income Through Rental Real Estate?
Ready to talk about your goals? We're here to show you the tools and teach you the process to begin earning legacy wealth for you and your family.