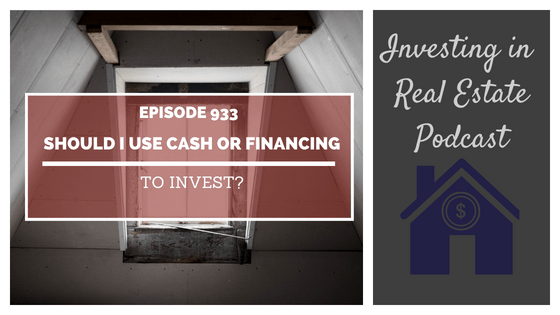 Should you use your cash reserves to buy real estate, or is it a better strategy to use bank financing? And which method offers better tax benefits? That's the first question I'm answering on today's show!
On today's show, we're going to talk about the state of the economy and the current value of the US dollar. Then, I'll dive into your questions on the benefits of financing a real estate purchase, determining monthly rental rates, and finding HELOCs on rental properties. Click play to hear my answers to your best real estate investing questions!
On this episode you'll learn: 
How to decide between using cash and financing your investment.
What to consider about your monthly rental rates.
Why banks don't like to put HELOCs on rental properties.
And more!
How to Decide Between Using Cash and Financing Your Investment
I'm not a financial advisor, but my personal preference is to use bank financing to buy real estate whenever possible. There's no other asset type that allows you to use the banks' money to add an asset to your net worth while reaping the tax benefits of owning rental property. Remember, the US is a debt-based society. Why not use debt in a way that builds financial freedom? That's my preference — but if you choose to use cash, I think that's another great way to buy real estate as well.
Ultimately, it comes down the the numbers. Ensure that your rate of return is higher than your interest rate. Be sure that you can cover your mortgage and other expenses before signing any loan documents.
What to Consider About Your Monthly Rental Rates
Your monthly rental rate should be dictated by what's fair in the market. If you're working with an established property management team, they will be able to give you a range. You're want to be sure that you're asking for a fair rate, otherwise your property will sit vacant.
This is why I always say you need to make sure your numbers make sense. You want to property to make sense within the confines of your loan. If you feel like you need to raise rental rates for the investment to make sense, this might not be the right deal for you.
Why Banks Don't Like to Put HELOCs on Rental Properties
It's true: banks don't like to lend on rental properties. This can be very frustrating for investors, because using your equity is one of the best ways to grow your portfolio.
Banks see investment properties as riskier. First of all, if your property is an LLC, then there's no personal guarantee on your loan. Banks also understand that most people don't want to lose their primary home, so they consider lending to personal residences less risky. In my personal opinion, I like to think that investors are more responsible and financially savvy. And while it might be harder to find a lender who is willing to lend on your rental property's equity, it's not impossible. There are a lot of great lenders out there who like to work with investors. My advice to you is to keep looking! Reach out to my friend Dan Kraus at Churchill Mortgage, and shop around using a service like LendingTree.
Episode Resources
Book a Call with Our Team
morrisinvest.com/Clayton
5 Questions to Ask a Property Manager 
Tax Strategies for Real Estate Investors 
The Millionaire Real Estate Investor by Gary Keller 
Dan Kraus at Churchill Mortgage 
Lending Tree 
Financial Empowerment Bootcamp
Download the Freedom Cheat Sheet
Subscribe to Investing in Real Estate on iTunes
Find Your Financial Freedom Number
Subscribe to the Morris Invest YouTube channel
Like Morris Invest on Facebook
DISCLAIMER: I am not a financial adviser. I only express my opinion based on my experience. Your experience may be different. These videos are for educational and inspirational purposes only. Investing of any kind involves risk. While it is possible to minimize risk, your investments are solely your responsibility. It is imperative that you conduct your own research. There is no guarantee of gains or losses on investments.
AFFILIATE DISCLOSURE: Some of the links on this channel are affiliate links, meaning, at NO additional cost to you, I may earn a commission if you click through and make a purchase and/or subscribe. However, this does not impact my opinion. We recommend them because they are helpful and useful, not because of the small commissions we make if you decide to​ use their services. Please do not spend any money on these products unless you feel you need them or that they will help you achieve your goals.
Ready To Build Passive Income Through Rental Real Estate?
Ready to talk about your goals? We're here to show you the tools and teach you the process to begin earning legacy wealth for you and your family.