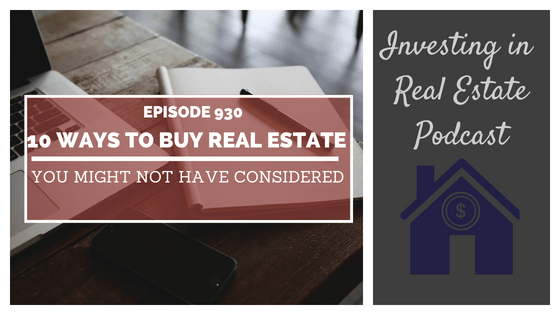 On today's show we're going to dive into an important topic: creative financing. I've talked to a lot of investors from different walks of life. Personally, I've also used plenty of creative financing options.
A lot of people get stuck in the trap of thinking that they can't invest, or investing is for other people. This is simply not true. If you truly want to invest, you can make it happen. It just takes a little determination and creativity. On today's show, we're going to explore 10 ways you can get started investing that you might not have considered.
More About This Show
Tapping into your 401k. I've shared my experience with this strategy many times before, but essentially most 401k plans allow you to take a loan from your account. The reason why this strategy is so powerful is because A) it's your money and B) you're paying the interest back to yourself. In most scenarios, you pay the 401k loan back automatically through your paycheck.  Who is this strategy for? Anyone that has a sizable 401k. I would say if you've got enough for a down payment, you might want to consider this option. Alternatively, this is NOT for you if you don't have job stability. If you're planning on leaving your company, do not take a loan from your 401k.
Accessing your home equity. If you own your primary residence, consider using your equity to buy real estate. I recently published a video called "The Ultimate Guide to Leveraging Your Home Equity." In that video I share some things to consider to determine if it's right for you.
Finding a private lender. Private money intimidates a lot of new investors, but it doesn't have to be scary. Private money can come from a lot of sources–whether it's a professional lender or a relative. Because the government or the banks don't regulate private money, you have a lot of freedom. Is private money right for you? That depends on your comfort level. Are you willing to approach lenders? Will you research the process and make a deal that is mutually beneficial? My go-to resource for private money is Susan Lassiter-Lyons' book, Getting the Money.
Working with a partner. Real estate partnerships can give you access to knowledge, funding, and the ability to grow your portfolio. Whatever your missing link is, you can find it by working with partners. I have another video that covers the main benefits of working with partners, how to find and vet partners, plus how to do your due diligence before getting started. A partnership needs to work for all involved parties, and you really have to cover all of your bases before diving in. Again, make sure you check out that video if you're interested.
Moving old IRAs or other retirement accounts into self-directed IRAs. A lot of people have old retirement accounts from past jobs that they've forgotten about. Rolling retirement funds over to a SDIRA is a great way to start investing. Begin by logging into your online portals, checking your statements, or calling your previous employers. If you find that you do have some funds available, our self-directed IRA experts can set up your new account in ten minutes! However, there are a lot of special rules about investing in a self-directed IRA, but our experts are specifically trained on this. Schedule a free call if this sounds like a strategy that could work for you.
Selling non-performing assets or utilize a 1031 exchange. In this scenario, look at your balance sheet and see if you've got anything that isn't putting money in your pocket. For instance, it could be an underperforming rental property, a car, collectables, etc. Is there anything you have that you could sell or trade? If you do own a  rental property that isn't performing like you'd hoped, you can utilize a 1031 exchange, With this strategy, you can essentially "trade" that property for another, higher ROI property without paying taxes. See this video on 1031 exchanges. A 1031 does have a lot of rules and regulations, so you'll want to be sure you can meet all of the requirements before you get started. Again, this is something my team can help with, so give us a call if you'd like to discuss this option.
Using savings. Okay, I know, this one is kind of obvious. One common hangup I see is that people have this nest egg and they're too afraid to touch it. If you have cash sitting in a savings account collecting minimal interest, you may want to consider using those funds to buy a cash flowing rental property. Invest in assets that can bring you passive income AND build back up that savings account simultaneously.
Getting into house hacking. House hacking allows you to reduce or even eliminate your housing costs by buying a duplex and then renting out one unit. If you live in the right market and wouldn't mind moving, this could be a great way to get into the real estate investing game. Again, I've got a full house hacking video that goes into the benefits, a three-step process to get started, and the biggest mistakes to avoid.
Freeing up funds – pay down debt faster or increase income. This one is for anyone out there who has the ultimate goal of investing in real estate… but maybe you're not quite ready yet. If this sounds like you, I would suggest that you start preparing and getting your finances ready now. Can you pay down high-interest debt? Are you able to pick up a side hustle? One great way to start getting your finances in order is by going through my free Financial Empowerment bootcamp at morrisinvest.com/bootcamp. It's a 90-day program that you can use to learn about assets, liabilities, and it will point you in the right direction to get started investing.
Moving funds out of volatile stock market. Look at any stocks or investments you already have, and consider selling them to buy real estate. Above all, stocks are simply a digital value, but real estate is a tangible asset.
Episode Resources
Book a Call with Our Team
Rhone.com/realestate ← Use code REALESTATE to save 20%!
Home Equity Video
Getting the Money by Susan Lassiter-Lyons
Partnership Video 
1031 Exchange Video
House Hacking Video
morrisinvest.com/bootcamp ← Download your FREE 90-Day Bootcamp!
Subscribe to Investing in Real Estate on iTunes
Find Your Financial Freedom Number
Subscribe to the Morris Invest YouTube channel
Like Morris Invest on Facebook
DISCLAIMER: I am not a financial adviser. I only express my opinion based on my experience. Your experience may be different. These videos are for educational and inspirational purposes only. Investing of any kind involves risk. While it is possible to minimize risk, your investments are solely your responsibility. It is imperative that you conduct your own research. There is no guarantee of gains or losses on investments.
AFFILIATE DISCLOSURE: Some of the links on this channel are affiliate links, meaning, at NO additional cost to you, I may earn a commission if you click through and make a purchase and/or subscribe. However, this does not impact my opinion. We recommend them because they are helpful and useful, not because of the small commissions we make if you decide to​ use their services. Please do not spend any money on these products unless you feel you need them or that they will help you achieve your goals.10 Ways to Buy Real Estate You Might Not Have Considered – Episode
Ready To Build Passive Income Through Rental Real Estate?
Ready to talk about your goals? We're here to show you the tools and teach you the process to begin earning legacy wealth for you and your family.